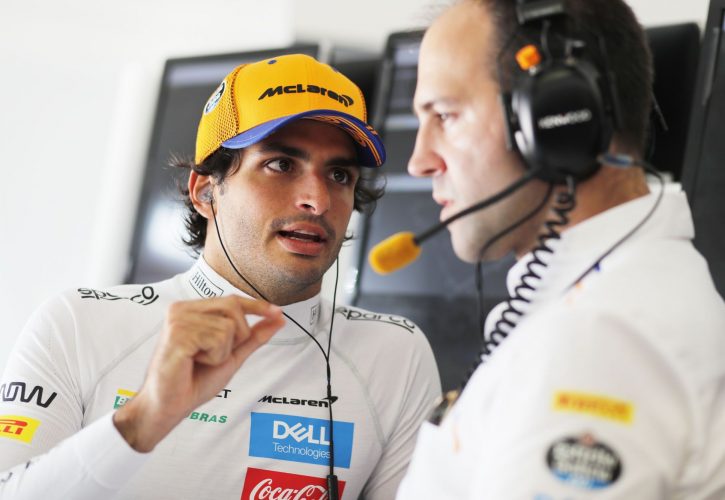 McLaren's Carlos Sainz doesn't believe that extensive sessions of sim racing at home deliver much of an advantage to F1 drivers in real life.
Sainz's teammate Lando Norris is a big fan of sim racing and spends much time as possible on his home simulator, competing in online events, often alongside Red Bull's Max Verstappen.
The pair even teamed up earlier this year to win the iRacing 24 Hours of Spa, while Norris claims that part of the knowledge he applies in the real world was gained over years of sim racing.
Sainz however is unconvinced that immersing in the virtual world delivers an edge on Grand Prix weekends.
"I do plenty of simulator at the factory but the rest I try to spend a lot of time outdoors," the Spaniard told Motorsport.com.
"I'm an outdoors guy and I enjoy a lot driving real cars, like rally cars.
"If they would benefit from it, then Lando would be quicker in the simulator in McLaren than me. But he's not. So I don't think they benefit from it."
Sainz also made his case by pointing to five-time world champion Lewis Hamilton, who spends notoriously little time in Mercedes' simulator.
"I haven't seen anything from Lando that I haven't seen from Lewis," he added. "That doesn't explain time in a simulator, If you know what I mean.
"I think Lewis is a good example of… he just comes here and drives and then the rest of his life he does something completely different, and he's a good as Lando or Max or even better."
Gallery: The beautiful wives and girlfriends of F1 drivers
Keep up to date with all the F1 news via Facebook and Twitter