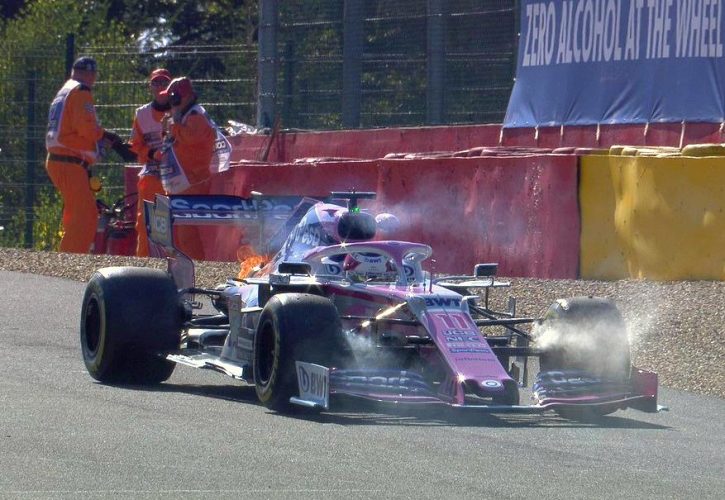 Racing Point's Sergio Perez will return to a previous-spec engine for the remainder of the Spa weekend after his brand-new Mercedes unit suffered a massive failure on Friday.
Perez's productive afternoon session in which he set the fifth fastest time came to a premature end when smoke and flames were seen pouring out of the back of his Racing Point on the run down to Rivage.
Unfortunately, the ominous signs left no doubt as to the origin of the issue and Mercedes later confirmed that new-spec engine's failure.
With all Mercedes-powered drivers running the new-spec unit, the incident was a worrying development for the German manufacturer, whose HPP power unit base in Brixworth was set to conduct an overnight investigation into the rupture.
"I just got off the power and I saw a little bit of smoke and noise coming out of the exhaust, so not looking good," he said.
Perez will revert to an old-spec engine and thus sidestep any grid penalties on Sunday.
It's but a short respite however for the Racing Point driver who will likely start next week's Italian Grand Prix from the back of the grid as a result of taking on another new unit.
His engine mishap notwithstanding, Perez was happy with his day's work which included trialing a new front wing on Racing Point's RP19.
"Up until that point, things were looking good," he added. "The car was strong in both sessions and the new parts we introduced here made an immediate difference.
"We've brought a front wing and new things that suit us, a couple of new pieces that I think are helping the whole balance of the car.
"There are still lots of areas to improve before tomorrow, but I'm feeling positive."
Gallery: The beautiful wives and girlfriends of F1 drivers
Keep up to date with all the F1 news via Facebook and Twitter