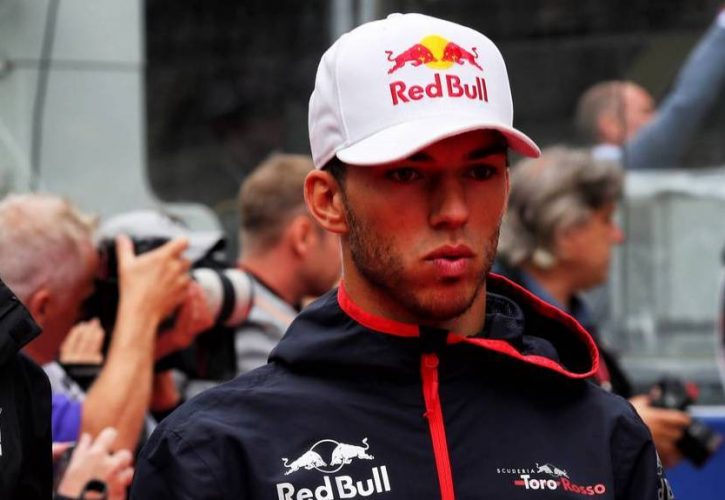 An emotional Pierre Gasly says he told Charles Leclerc before Sunday's Belgian Grand Prix to "please win this race" to honour the memory of their close friend Anthoine Hubert.
Gasly, Leclerc and Hubert grew up together in the ranks of karting during their childhood, along with Esteban Ocon. The four drivers raced together and fought fiercely against each other.
Hubert's passing from injuries sustained in Saturday's Formula 2 feature race was a massive blow for the remaining trio.
Belgian Grand Prix winner Leclerc dedicated his maiden win with Ferrari to his old friend, while Gasly finished ninth at Spa for his return to Toro Rosso.
"I think it was for sure the most emotional pre-race I ever had because you are not ready at 22, 23 years old, to live this kind of moments, to lose one of your best mates," confessed a visbly unsettled Gasly.
"I've grown up with these guys since I was seven in karting, we've been room-mates, we've lived in the same apartment, in the same room for six years.
"We've been class mates, I've studied since I was 13 until 19 with him, with the same professor at a private school that the federation did. I'm still shocked.
"I just don't realise how it can go so fast. It's just terrible. I've already planned to see all our friends we had in common with Anthoine tomorrow because none of us really understand and realise what has happened yesterday and it's just super sad."
Fortunately, Gasly's courage and fortitude took over when the Frenchman head to the grid on Sunday.
"You have to [put it out of your mind] because otherwise you can't race," he added.
"Once you put the helmet on and go for the formation lap, you're in a different zone and frame of mind, but straight after the chequered flag it was the thing that came into my mind.
"I'm happy to score these two points."
Gasly said he had spoken to Leclerc before Sunday's race, and made a plea to the Monegasque.
"I told Charles before the race 'please win this race for Anthoine' because we started racing in the same year, Charles, Anthoine and myself," he said.
"Between Jules [Bianchi] a couple of years ago, and now Anthoine, I think it's really terrible news for French motorsport. They were two really great, amazing characters and it's really difficult to realise."
Gasly admitted that Hubert's death had sparked an awareness of motorsport's dangers that had not been at the forefront of his conscious up to now.
"Over the summer break I was talking about safety [with] people who are not drivers and they were like 'F1 is so safe now, it's completely different than it used to be before'. And I must say I agreed with them because it's not something you think about.
"When you are in the car, I feel so safe I feel like almost nothing can happen to us.
"But at these kind of speeds it just brings you back to reality that whatever happens at 200, 250, 300, you can do whatever you want, I think there well be always this high chance of death and that's also something we accept as drivers.
"But unfortunately, there was this thing that happened to remind everybody it's a really dangerous sport. I'm just really sad that it was one of my closest friends in racing."
Keep up to date with all the F1 news via Facebook and Twitter