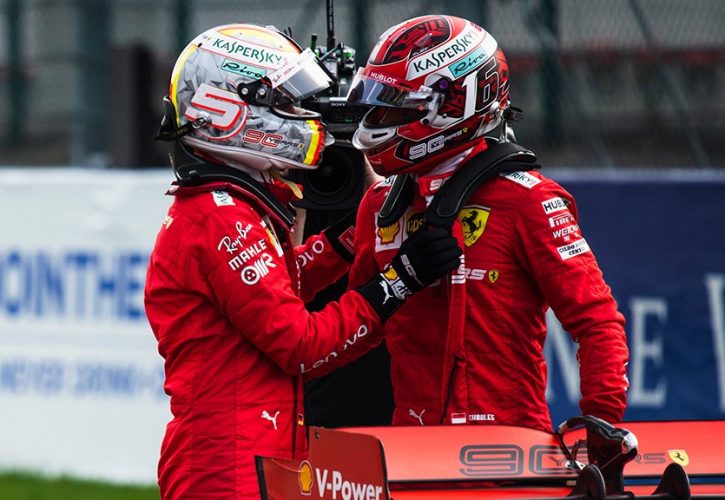 Sebastian Vettel was on the receiving end of some unwanted team orders during the Belgian Grand Prix, when he was instructed by the Ferrari pit wall to move over for his team mate Charles Leclerc.
It came after he briefly lost second place to Lewis Hamilton at the start of the race, only to get the position back going down the Kemmel Straight.
"It was not by any means an easy race for me. At the start I managed to retake my position from Lewis," he said.
"But then I began to struggle with the tyres and I had to stop earlier than planned. With the medium tyres at first I managed to maintain a good pace, but then it dropped again."
After pitting on lap 15, Vettel inherited the lead eight laps later when Leclerc and both Mercedes drivers made their own stops.
But by now Vettel's medium tyres were already starting to show their age, and Vettel was clearly slower than Leclerc - which meant he was inadvertently backing his team mate into the clutches of Lewis Hamilton and Valtteri Bottas.
Mindful of the danger, Ferrari told Vettel to allow Leclerc to retake the lead while he was to do his best as a 'rear gunner' holding up the two Silver Arrows.
"From the first lap onwards it was clear we won't be in the fight so all I could do by then was serve the team," Vettel acknowledged.
"I tried to obviously make [Lewis] lose time in order to give Charles a cushion," he said of his efforts to hold up Hamilton just long enough to allow Leclerc to make a break.
"In the end it was just enough so did the job," he said. "For the team, yes [I'm happy]. But for myself I'm obviously not happy.
"I tried to keep second place, but I couldn't do it. At that point the best thing to do was to pit once more for tyres and carry on without struggling so much.
"I was struggling to stay on top of the tyres which normally is not a problem at all so it was a tough race," he explained. "I didn't have the pace, ultimately.
"We have to understand why my car had such high tyre degradation and we will do a full analysis of the situation to understand the reasons why I did not feel comfortable.
"It was definitely not a great weekend for me, but it was a great weekend for the team and that's the main thing. So congratulations to all the guys in the team and well done to Charles for his first win!"
Leclerc later thanked his team mate for helping him to his first F1 Grand Prix victory this weekend.
"Seb has been very nice and without him I think it would have been a lot more difficult to win this race," Leclerc said afterwards. "So thanks to him."
Keep up to date with all the F1 news via Facebook and Twitter