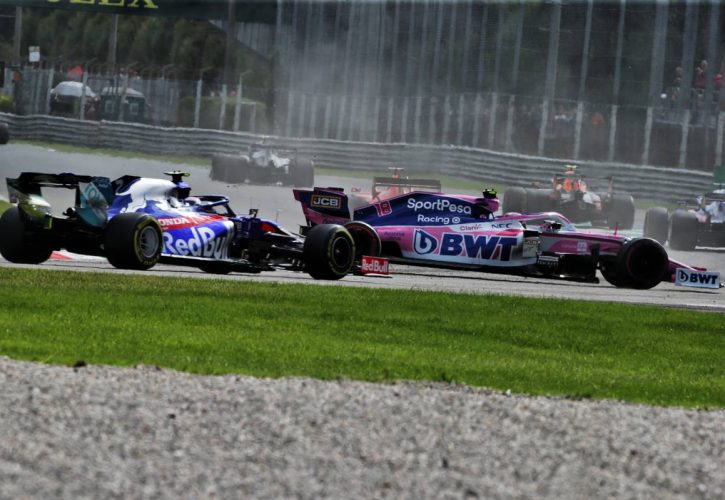 Lance Stroll was visibly upset with Sebastian Vettel following the Ferrari driver's reckless maneuver in the Italian Grand Prix that undermined the SportPesa Racing Point driver's race.
Vettel spun on his own on the entry to the Ascari chicane on lap 6 and then clipped Stroll's car upon rejoining the track.
"I'm quite upset about what happened, to be honest," said the Canadian after the race.
"He was in a position where he shouldn't have just come back on the circuit that aggressively.
"I did everything I could to avoid it, I was really cautious, saw the yellow flag, lifted off and whatever.
"I obeyed the rules in that circumstance and he just came back on the circuit in the middle of Ascari and there was really nothing I could do even at the speed I was going, which was quite slow.
"He was blocking the whole circuit at that point and then he clipped me, and I spun and I was pointing the wrong way."
Stranded on the left side exit of Ascari, Stroll returned to the track, but in the process forced the oncoming Toro Rosso of Pierre Gasly to take avoiding action!
"I couldn't see who was coming from my right, so I had to do a dangerous manoeuvre to get back on the circuit myself and then I got penalised for pretty much the same thing [as Vettel].
"It was just a disaster really. I had no visibility on my right side, so I was just trying to get back in the race at that point.
"There's nothing really you can do at the moment with these cars, it's just a bit of a guessing game."
Vettel was hit with a 10 second stop-and-go penalty - and handed three penalty points on his licence - while Stroll was given a mere drive-through.
As unhappy as he was with Vettel's blunder, Stroll criticized the stewards' penalty decisions, insisting the drivers' identical infringement warranted the same punishment.
"I think it should have been an identical penalty, both a drive-through," he said.
"I don't know why not. I think that that's not really fair to be honest because it was exactly the same thing that I did."
Keep up to date with all the F1 news via Facebook and Twitter