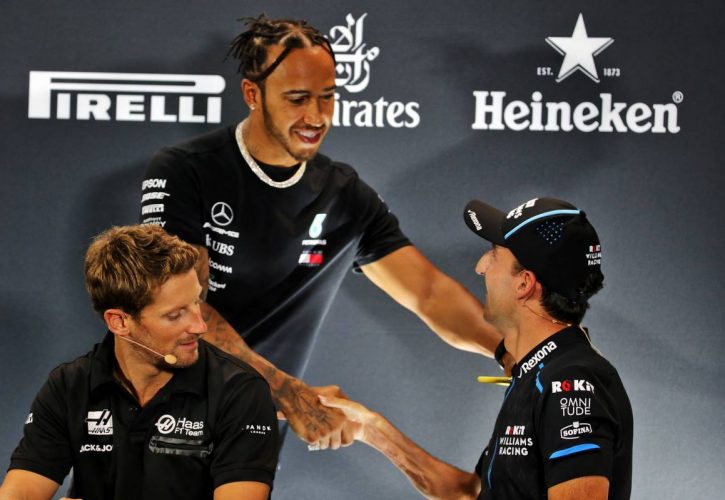 Lewis Hamilton expressed his utmost admiration for Robert Kubica after the Polish driver announced his departure from Williams, and likely F1, at the end of the season.
Kubica's miraculous comeback to the sport eight years after his life-threatening rally crash in 2011 didn't pan out as expected, with just a single point to show so far for his incredible human achievement.
But the shortfall hasn't diminished the enormous respect bestowed upon the 34-year-old by Hamilton.
"I've known Robert probably the longest I would say, we started racing together in go-karts," said the Mercedes driver in this afternoon's drivers' conference in Singapore.
"Robert is one of the most talented drivers I've competed against. I've seen the talent he had. It's still there when you've had it.
"What's remarkable is the strength and determination he's shown particularly through the incident he had.
"Not a lot of people can come from those circumstances and make it back into the sport and deliver against others who don't have the same situation he's been in.
"I think it's been great to have him back, it's definitely not the same scenario as when he was in a more competitive team back in the day, but he's done great this year.
"We need the best talent in the sport and we need them to be as high up as possible creating part of the show."
A self-effacing Kubica, sitting on the conference podium along with Hamilton, Daniel Ricciardo, Lando Norris and Romain Grosjean discretely urged his colleagues to "skip it", but more praise rolled in.
Grosjean followed Hamilton's acclaim of the Williams driver, insisting Kubica is an inspiration for anyone confronting or fighting adversity.
"He's an inspiration for anyone that had a bad experience," said the Frenchman.
"The first time I spoke to Robert was in 2009, in Abu Dhabi I think. We were supposed to be team-mates in 2010 [at Lotus] and I was very, very much looking forward to it.
"It didn't happen, but the next year I followed Robert as the reserve driver when he had his accident.
"The way he came back…To come back to the highest level and fight the way he fought back is very impressive."
Gallery: The beautiful wives and girlfriends of F1 drivers
Keep up to date with all the F1 news via Facebook and Twitter