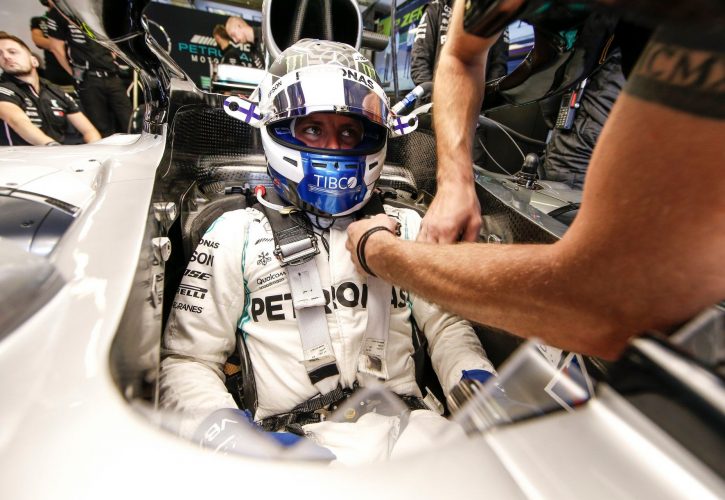 Valtteri Bottas says Mercedes and himself have "started the process" for the Finn to improve his specific weaknesses relative to teammate Lewis Hamilton.
Bottas hit the ground running in Melbourne and shared wins with Hamilton in the first four races of the 2019 season.
Since Baku however, Hamilton has left the Finn in his stride, tagging on six wins and building himself a comfortable 63-point margin in the championship's standings.
After Monza, Mercedes team boss Toto Wolff praised Bottas for beating Hamilton to second and putting pressure on race winner Charles Leclerc in the closing stages of the race.
But the Austrian also underscored the relative weakness displayed by Bottas when racing in the wake of another car and urged his driver to work on that particular vulnerability.
"With the team we've started the process for me to try and get better on that," Bottas said in Singapore.
"There are some occasions Lewis has done a better job on following another car and getting close quicker, and being able to attack, and looking at all the things I can learn from that, looking at videos from the past, different race situations.
"Honestly, I feel there was no way to win at Monza with the difference we had, straight line difference, my tyres were dropping at the end.
"Now looking back and analysing everything. for sure an area I still can improve and it's one of the strengths of Lewis'."
Bottas admitted that beating Hamilton to the title would require him to draw on every amount of strength available.
"Definitely in this sport there's so many details and things you can improve if you invest your time into that," he added.
"If I want to beat Lewis for the whole season I definitely have to dig as deep as I can to not leave any stone unturned, I'm ready for that.
"We have a good spirit now with the engineers on my side of the garage, we're very united for me to find those gains, step by step, and find those improvements.
"They're motivated to help me and we've found a nice way of working now and hopefully that will bring results in the near future."
Gallery: The beautiful wives and girlfriends of F1 drivers
Keep up to date with all the F1 news via Facebook and Twitter