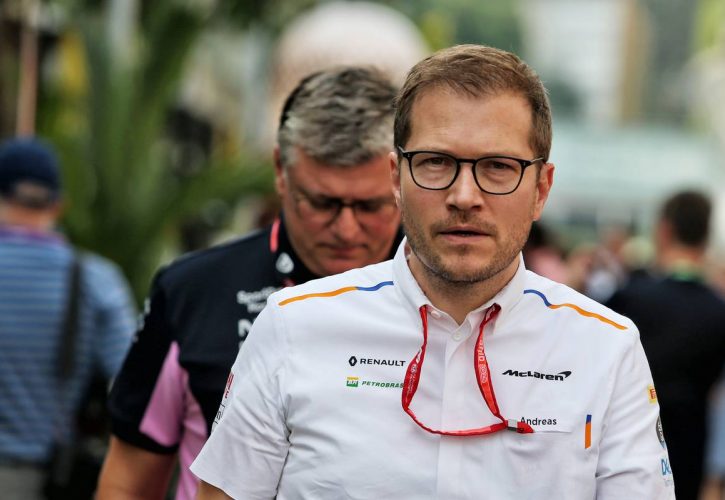 McLaren Racing boss Zak Brown said team principal Andreas Seidl was at the forefront of the team's decision to switch from Renault to Mercedes power from 2021.
McLaren and Mercedes confirmed on Saturday that they would revive the successful partnership that the pair enjoyed in the late 90s and 2000s.
Seidl, the man who led Porsche's highly rewarding LMP1 programme in the WEC, was recruited by Brown at the end of last year and started work at Woking last spring.
Among his first recommendations to McLaren's top management was a return to Mercedes power.
"I asked him when he joined, 'What to do we need to do to get back to the front?', and he quickly came back with recommendations like the new wind tunnel that you're aware of," Brown said.
"He led the decision here on the power unit. It was of course a group decision, but one that was driven by Andreas.
"When you look at Mercedes-Benz they have been the benchmark in the hybrid era as a power unit provider both in power and reliability.
"And of course, the racing team itself is the benchmark in this decade."
Mercedes motorsport boss Toto Wolff said the decision to supply a third customer team in F1 - in addition to Racing Point and Williams - was motivated by its will to supply "more competitive customers" when the sport enters a new era in 2021 and gain additional for its own benefit.
"I think that a new era is going to start in 2021 with a compressed grid, with more competition," said Wolff.
"And we believe that from the power unit side there is more learning for us in this exercise with having more competitive customers adding to the two the two that we have.
"We rate McLaren strongly," added Wolff. "The steps that Zak and Andreas have initiated certainly already look very promising.
"So the advantages outweigh the potential deficits of fighting a hard competitor like McLaren in the future."
While adding a third batch of customer engines to its workload will obviously imply a few logistical challenges for its Brixworth engine unit, Wolff insisted there were also significant upsides to the deal.
"There's maybe a process and logistic question because everybody needs to be supplied at the same time," explained the Austrian.
"But I think there is more upside in it going forward. Then of course there is a financial upside. It's a cash flow question which is helpful on the power unit side. So overall many pros.
"There is one risk in this, and that is that if McLaren does a good job they will push us hard and maybe benchmark us in a way to say 'OK that's the same power unit, you guys are not doing a good enough job'.
"But where we are now after seven years in the hybrid era we feel that we are we are ready for that step."
Gallery: The beautiful wives and girlfriends of F1 drivers
Keep up to date with all the F1 news via Facebook and Twitter