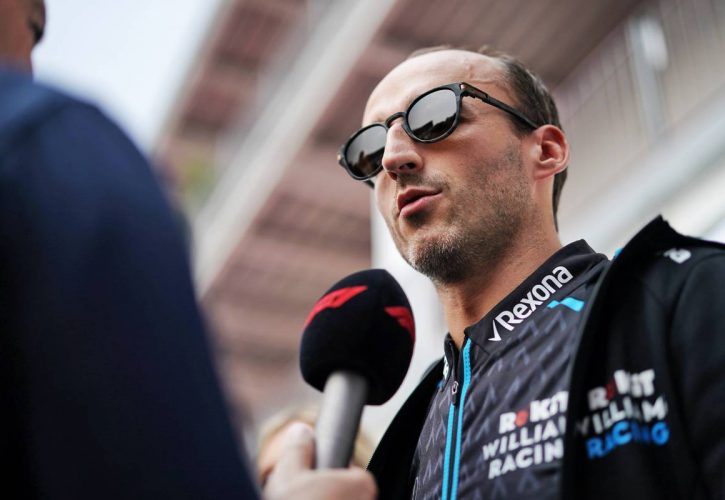 Haas confirmed in Mexico on Thursday that negotiations are ongoing with Robert Kubica about entrusting the Pole with a simulator and testing role with the US outfit in 2020.
Kubica will part ways with Williams at the end of the season, but the 34-year-old and sponsor Orlen are keen to remain involved in F1, preferably together.
The 2008 Canadian Grand Prix winner is therefore open to a development role with Haas, a prospect that very much interests team boss Guenther Steiner, especially if Kubica's collaboration comes with monies from Orlen.
"Yes, we are speaking," Steiner confirmed. "We were speaking about a role in our team as a test (driver) and need to develop the simulator still.
"We are at a decent point but we need to make the next step as well. He is for sure one of the most qualified to do that. That's what we're discussing."
Haas' 2019 campaign has been undermined by chronic tyre issues which the team has struggled to understand. And a lack of development in the simulator hasn't help the outfit's efforts to solve its troubles.
"It's a part we really need to improve on," added Steiner.
"Once we get into the position with the tyres, like it was this year, that we know that we can work also not only on the racetrack, where we know what is going to happen but get in the sim to see how we can avoid these things."
While Kubica's experience and input would be welcomed in the simulator, Steinert insists the Pole would also get track time, mainly on Fridays.
"If it works, for sure, a simulator driver, they all have in-car time as they need to correlate the sim work with what the car is doing, otherwise there's no point.
"I cannot say (how many Friday outings) yet. We're still talking. It's not a done deal."
Gallery: The beautiful wives and girlfriends of F1 drivers
Keep up to date with all the F1 news via Facebook and Twitter