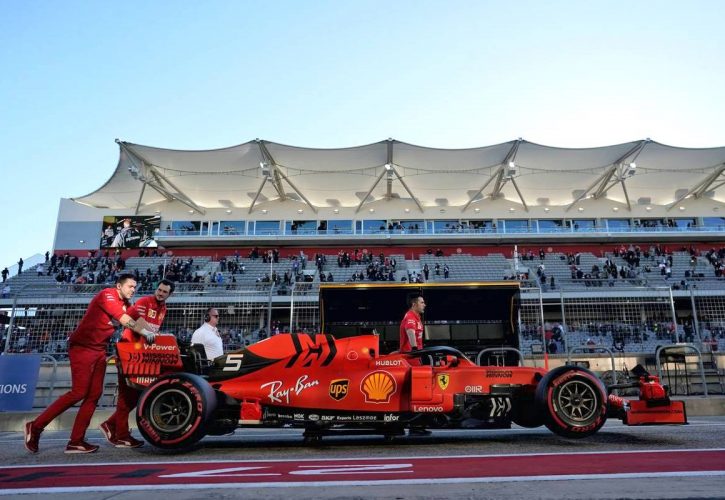 Lewis Hamilton says Ferrari has lost engine performance in Austin, but the Mercedes driver steered clear of implying that the change was rooted in a technical directive issued by the FIA on Saturday.
F1's governing body responded to an inquiry from Red Bull which submitted a theoretical system that could be used to increase an engine's fuel flow by altering how the flow is measured.
As expected, the FIA deemed that such a ploy would violate F1's technical rules.
In qualifying, Ferrari was beaten to pole by Mercedes' Valtteri Bottas, with runner-up Sebastian Vettel outpaced by the Finn by 0.012s and teammate Charles Leclerc concluding the session fourth.
Hamilton, who will line up fifth on Sunday's grid after enduring his worst qualifying session of the year, appeared quizzical as he assessed Ferrari's performance.
"What's come out this week is quite interesting to see," the Briton said.
"Obviously today, I think they've lost a bit of power. It will be interesting to see how that continues or how that reflects in the race tomorrow.
"They are still quicker than us generally in the straights. Hopefully our car will be strong throughout the race. Yesterday's running was good and today was a little difficult. Hopefully tomorrow is a better day."
Mercedes boss Toto Wolff, who was satisfied with the FIA's response to Red Bull, was also attentive to Ferrari's speed in qualifying.
But the Austrian also didn't suggest that there was any causal relationship between the Italian outfit's performance and the FIA's technical directive clarification.
"I think it's very strong that the FIA issued a TD clarifying the situation, with some very clear wording," he said.
"Certainly the three teams were much closer together in terms of straight line performance here in the US," he said. "But I wouldn't say this is down to any specific event.
"It's just a fact that we've won our first pole position since July, since Hockenheim, and we were really in the mix."
Gallery: The beautiful wives and girlfriends of F1 drivers
Keep up to date with all the F1 news via Facebook and Twitter