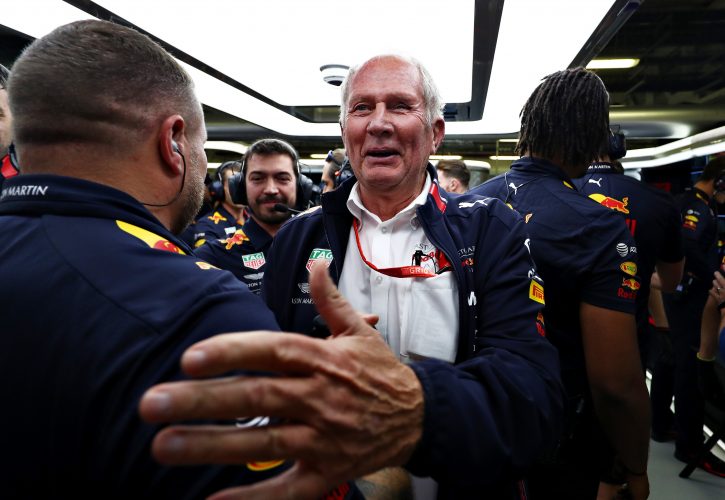 Red Bull motorsport boss Helmut Marko, the man who can make or break a young drivers' career in F1, has no intention of handing in his frequent flyer membership card anytime soon.
Marko - who has overseen Red Bull's driver development programme since 1999 and its interests in F1 since 2005 - is 76 years old, but the Austrian insists he never tires of his incessant travels and will continue his globetrotting unabated as long as he physically can.
"I have a deal with [Red Bull founder] Dietrich Mateschitz: as long as I can do it mentally and physically, I will," he told Germany's Motorsport-Total.com.
As Formula 1 teams debate the merits of increasing the sport's schedule to 25 races in the future, Marko has no issues with living out of a suitcase.
"I do not understand how people get upset that they have to fly so much," he said. "Most people ache after long trips while I fly with a certain comfort."
Perhaps the luxury of flying exclusively private or business class goes along way towards alleviating Marko's pain.
As Red Bull's representative in the paddock and Mateschitz's advisor, Marko main task is to keep an eye on drivers and to monitor both Red Bull and Toros Rosso's performance, leaving the operational workload of the energy drink's teams in the very efficient and cappable hands of Christian Horner and Franz Tost.
Beyond the never ending flying, driving, trekking or roaming, the former F1 driver and Le Mans winner - who started his driving career in Grand Prix racing with his good friend Niki Lauda who unfortunately passed away earlier this year - does have a place he calls home: his native city of Graz where he retreats now and then.
"I go there in between races, that's enough for me," he added. "It's the winning that drives me, but the last five years have been terrible."
Indeed, since its four consecutive Constructors and Drivers' championships won with Sebastian Vettel from 2010 to 2013, and a runner-up spot in 2014, the Milton Keynes-based outfit has been barred from the title by Mercedes' overwhelming domination.
But race wins have come Red Bull's way, and that's been enough so far to fuel the good Dr. Marko and his travels.
Gallery: The beautiful wives and girlfriends of F1 drivers
Keep up to date with all the F1 news via Facebook and Twitter