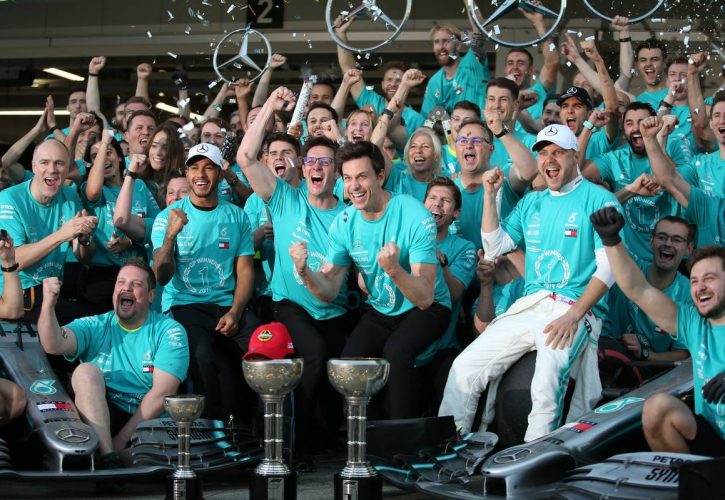 Mercedes AMG F1 boss Toto Wolff is optimistic the German manufacturer will remain in F1 from 2021, but the last word will reside with parent company Daimler in the coming months.
Like its rivals, Mercedes has yet to sign F1's new Concorde Agreement, the all-important legal document that binds the teams to the sport and governs their commercial relationship with Liberty Media, F1's rights holder.
Daimler's strategists are weighing their decision to remain on the grid in light of Grand Prix racing's recently published 2021 regulations, but also in the context of the significant paradigm shift that is emerging in the automotive industry.
"Everything indicates that we will stay. But it's not a given," said Wolff, speaking to Motorsport.com.
"We are in the middle of discussing the new Concorde Agreement. In connection with this - and independently of it - we are discussing the development of the automobile and its effects on sport.
"In which direction is the automotive world developing?" asked Wolff.
"In what form is Formula 1 relevant as an entertainment and technology platform? As a brand whose first car was a racing car, do we want to stay on this platform in the long term?
"There is the Ferrari model that says: 'We will do it forever. We build racing cars and we build road cars'. The other model is to say: 'We had a very successful run. There's nothing more to prove. We're doing something else now'. Both are absolutely plausible strategies."
Given Mercedes' supremacy in F1, marked by six consecutive Constructor and Driver titles in the last six years, one might logically assume that Daimler's luminaries now consider the company's task in F1 as supremely fulfilled.
While Wolff would not dispute that claim, the Austrian argues in favor of a sustained presence of Mercedes at the pinnacle of motorsport.
"If you do a survey today to see which Formula 1 teams are the most successful, most people will say Ferrari," he said.
"That's simply because Ferrari has been at the forefront and competitive for 50 years.
"I think at a time when everything is so short-term, it's the sustainability of success that makes the strategy much more credible than fast in and out.
"Success can also fluctuate at times - it can also happen that you come third.
"Of course, as a brand used to success, you have to endure keeping your own expectations realistic and calibrating that you can't win every year.
"That's not easy. I have to start with myself: How can I endure that?"
Gallery: The beautiful wives and girlfriends of F1 drivers
Keep up to date with all the F1 news via Facebook and Twitter