Max Verstappen topped the timesheet in FP3 thanks to a late charge in the final practice session in Abu Dhabi, indicating that Aston martin Red Bull Racing will be a force to be reckoned with in qualifying.
The Dutchman took the top spot from Lewis Hamilton, lowering the Mercedes driver's benchmark by 0.074s, while Valtteri Bottas clocked in third.
Alex Albon concluded the session fourth but Ferrari was once again outpaced by its front-running rivals, although Sebastian Vettel and Charles Leclerc's running took place mainly on the medium tyre, indicating that the Scuderia pair may have some pace in hand to unleash this evening.
Run under Yas Marina's warm conditions compared to the cooler temperatures that drivers will encounter in qualifying, the relevance of FP3 is debatable.
Still, the session offered an opportunity for teams and drivers to check and tweak settings as well as verify degradation levels.
Friday's pacesetter Valtteri Bottas was equipped with a new engine, his second for this weekend after Mercedes discovered a pneumatic leak on the brand-new unit installed yesterday.
Over at Williams, after feeling under the weather earlier this week, George Russell was once again in the cockpit, appearing fit and well.
McLaren's Lando Norris was the first driver to establish a benchmark, but the early time was quickly topped by Renault's Nico Hulkenberg before a soft-shod Bottas logged in a 1m37.911s to pick up where he left off on Friday.
The Finn was demoted however by Hamilton who clocked in 0.212s faster on the soft tyre, while Vettel and Leclerc rose into P2 and P3.
But at the session approached its halfway mark, Red Bull's Max Verstappen seized the best time, the Dutchman running nearly half a second faster than Hamilton.
The Briton would have none of it however, responding tit for tat with a 1m36.877s while Bottas slot himself into second.
Alex Albon's heart rate hit a peak when he stumbled upon the slow-moving Renault of Nico Hulkenberg on the racing line at Turn 17, forcing the Red Bull charger to take some hectic evasive action.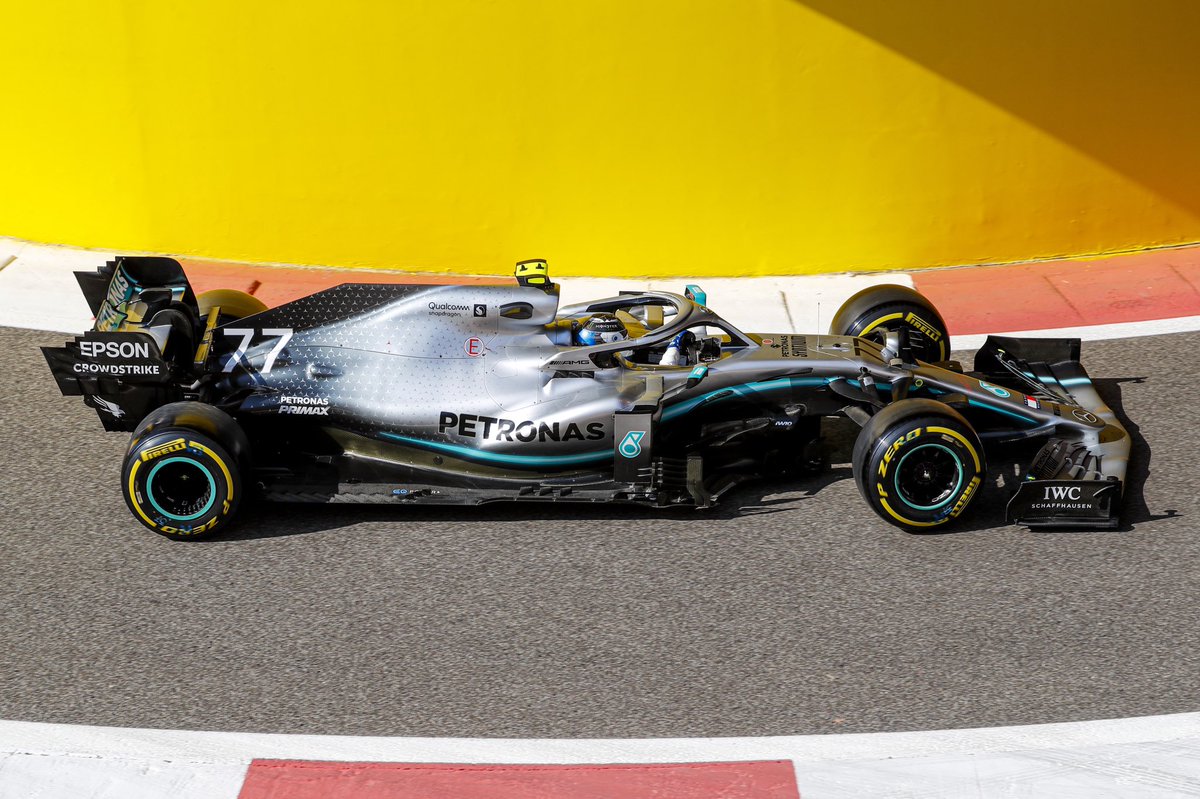 Hamilton extended his advantage up front, but Bottas got within 0.015s of his teammate.
Both Ferraris appeared on course to challenge Mercedes' lead, with two purple sectors but the red cars were clearly outpaced by their Silver Arrows counterparts in the final portion of the track, a definite weak area for the Scuderia.
With just a few minutes remaining on the clock, Verstappen sprung to the top with a 1m36.566s that edged Hamilton by 0.074s!
The Dutchman's time remained unchallenged, hopefully indicating that Red Bull will be a force to be reckoned with in this evening's shootout.
Hamilton and Bottas ended FP3 in second and third, with Albon Vettel and Leclerc rounding off the top six.
Gallery: The beautiful wives and girlfriends of F1 drivers
Keep up to date with all the F1 news via Facebook and Twitter