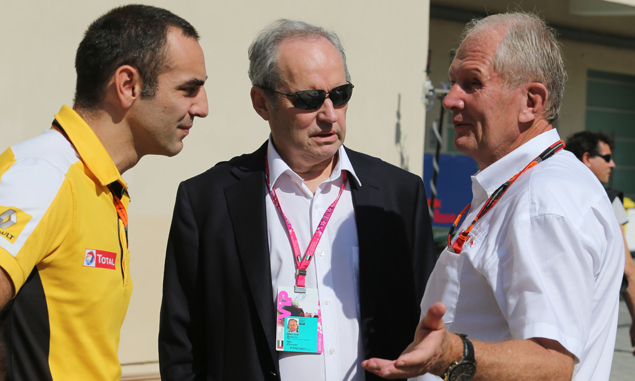 Red Bull could carry on using Renault power units beyond the 2016 season, though the energy drinks giant's favoured option is to seek an alternative engine.
Having initially elected to part ways with the French manufacturer one year ahead of schedule, Red Bull failed to hammer out a replacement deal with one of the other three engine suppliers.
As a result, the Milton Keynes-based outfit will continue to run Renault power units in 2016, though these will be branded TAG Heuer. Speaking to Red Bull publication Speedweek, Helmut Marko does not rule out the team sticking with its long-standing engine partners.
"For one season only," the motorsport advisor replied when asked about the duration of the new contract. "We still hope to secure an alternative engine from 2017, but the other option would be that Renault develops its power unit so well during the 2016 season that we can consider continuing to work with them."
After winning four consecutive world titles at the end of the V8 normally aspirated era (2010-13), Red Bull and Renault have struggled since the introduction of the new 1.6-litre V6 turbocharged units, which led to a growing rift between the two partners.
Marko has never been one to shy away from lambasting Renault, but the 72-year-old says Renault has given Red Bull satisfactory assurance ahead of next year, including factory-level power units and guidance from engine expert Mario Illien.
"We will have the same engines as the new Renault works team. Mario Illien will cooperate with his Ilmor company as a consultant with Renault to help develop the power unit.
"They have presented concepts that look good. Now these need to be implemented and deliver in practice what has been promised in theory. The question is how quickly that will be possible."
Renault confirms return as F1 constructor
Click here for a more light-hearted look at the Abu Dhabi Grand Prix
Use the red tabs on either side of the screen to scroll through more Formula One news and features