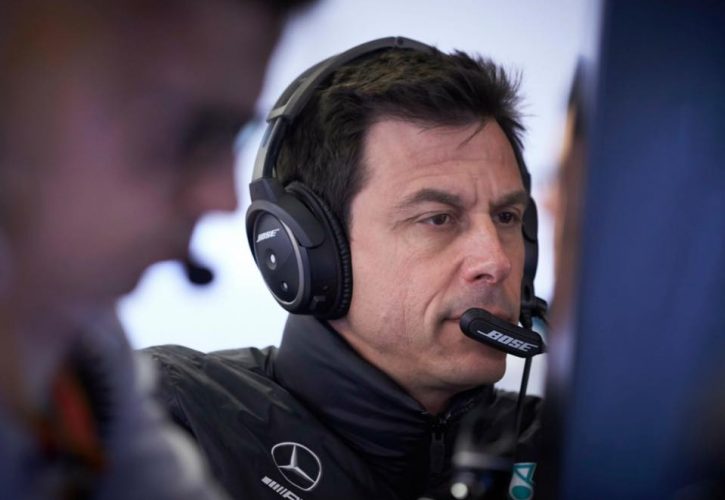 Mercedes boss Toto Wolff says that he will remain in F1 for as long as he can contribute to the German outfit's achievements in the sport.
Wolff's future in F1 beyond 2020 is being debated almost as much as Lewis Hamilton's own fate, in large part because the six-time world champion has conditioned an extension of his deal with Mercedes on his boss' plans.
Rumors earlier this year inferred that Wolff could be a successor to Chase Carey at the helm of The Formula One Group, but the Austrian has repeatedly denied the innuendo.
In an interview with Austrian TV ORF, Wolff offered a glimpse into what may shape his future moving forward.
"You have to think back," explained the 47-year-old. "As Niki Lauda and I approached this adventure in 2013, we not only did it as employees, we also participated in the racing team.
"So the question is not just whether you take a job elsewhere, but whether I generally continue in Formula One.
"At the moment I enjoy it, I think that's the most important thing. It is certainly less fun than when Niki was there. But this work continues to motivate me.
"It is nice to have all these connections in Formula 1 and to be able to enjoy the trust of the board.
"At the same time, we have an incredibly good team in England. As long as I believe that I can contribute something, I won't go from good to mediocre."
However, Wolff may not be solely in charge of his destiny at Mercedes as the manufacturer - as it reconciles its various racing programmes with the automotive industry's ongoing shift from the internal combustion engine to the electric power unit - debates the necessity to remain in F1.
While the decision to remain in F1 will ultimately reside with Mercedes' board of directors, Wolff is confident the Silver Arrows team will still be on the grid come 2021.
"As an entrepreneur you think long term," Wolff said. "It is considered whether Formula 1 will continue to develop positively. I would answer that with yes.
"Do we have a common goal with Daimler? Also, a very clear yes. Daimler and Mercedes build street cars and racing cars, that's our core business, and that's why we want to continue together."
Gallery: The beautiful wives and girlfriends of F1 drivers
Keep up to date with all the F1 news via Facebook and Twitter