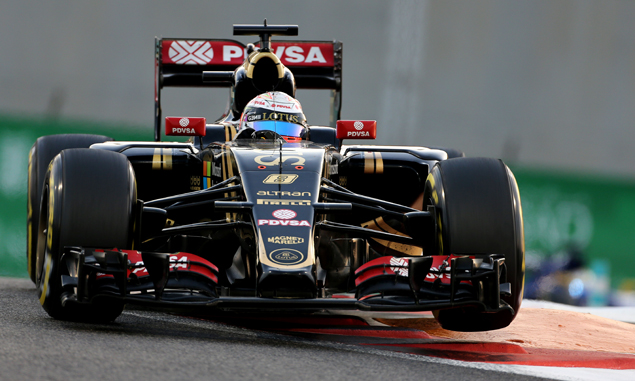 Lotus deputy team principal Federico Gastaldi says his squad was "not at all" pleased to claim sixth in the Constructors' championship, adding that Enstone had hoped to finish one or two positions higher.
After experiencing a torrid 2014 campaign that yielded only 10 points, Lotus switched to Mercedes power over the winter and partially recovered to amass 78 points, riding on the back of a fast and consistent Romain Grosjean.
However, it was the lowest classified Mercedes-engined outfit, trailing Force India by 58 points.
"The truth is that we were focussed on achieving fifth place," Gastaldi told Motorsport.com. "That was our target since the beginning of the year, being realistic.
"Being daring, we thought, if everything went well, that we could even fight for fourth place.
"But obviously things didn't turn out as we planned. The sixth place wasn't the target, and we're not pleased with that result. Not at all."
Although this year's E23 was considered to be a good chassis, Lotus' recurrent financial troubles and months of uncertainty about its future limited development and confined its drivers to fighting on the outskirts of the points-paying positions.
Gastaldi thinks his team also failed to capitalise on its early-season form, with Pastor Maldonado suffering five retirements across the opening six races for instance.
"We had our problems, we had bad luck in the beginning of the season, many incidents that, if you look carefully, you'll see that weren't our drivers' fault.
"We know we have a very good team of people with experience in Enstone, and we know we can build good cars.
"Obviously we can't compete because we don't have the budget of Mercedes, Ferrari or Red Bull, but we thought we could fight for fourth or fifth position."
Lotus' future is now secure, with Renault finally ending weeks of speculation on Thursday by completing its takeover of Enstone to return as a works outfit in 2016.
F1 global exposure a major selling point for Renault
Renault sees road-car relevance in F1 power unit rules
Use the red tabs on either side of the screen to scroll through more Formula One news and features
Click here for a gallery of the McLaren MP4-X
Keep up to date with all the F1 news via Facebook and Twitter