Alfa Romeo principal Frederic Vasseur says that his team must do better to exploit any opportunities that arise on track during "chaotic' races in 2020.
The team had its chances last season, only to see them slip away on several occasions leaving them stuck in eighth place in the final constructors championship standings.
"The season could have been completely different," Vasseur told Motorsport.com. this week. "But that's true for all ten teams."
Kimi Raikkonen finished in the top ten in the opening four races of the year, including Baku where he was forced to start from pit lane due to the front wing of his C38 having to be changed under parc ferme conditions.
Antonio Giovinazzi didn't pick up his maiden championship point until Austria. Both drivers subsequently missed out on points finishes in Germany when the team was hit by a double penalty for using banned driver aids at the start of the race.
"We missed two big opportunities," Vasseur said. "One in Baku when Antonio had to start from the back and Kimi from the pit lane, then in Hockenheim where we were penalised.
"It would have been a completely different championship," he pointed out, explaining that without these incidents Alfa could have been 16 points to the better heading into the summer break.
That in itself would have put them on an equal footing with Racing Point for seventh in the championship. Instead, they had to wait for Brazil for their breakthrough performance and best result of the season, with Raikkonen finishing fourth and Giovinazzi right behind in fifth.
"During the season we had three chaotic races: Baku, Hockenheim and Brazil," Vasseur said, explaining that these had represented Alfa's best chances of success in 2019 because of a high level of retirements.
"It makes no sense to lead the group if 100 per cent of the cars finish the race, because you score the points for seventh and eighth, or seventh and tenth," he said. "But if you are the top of the group, and then you have crashes, then you can score 20 points!"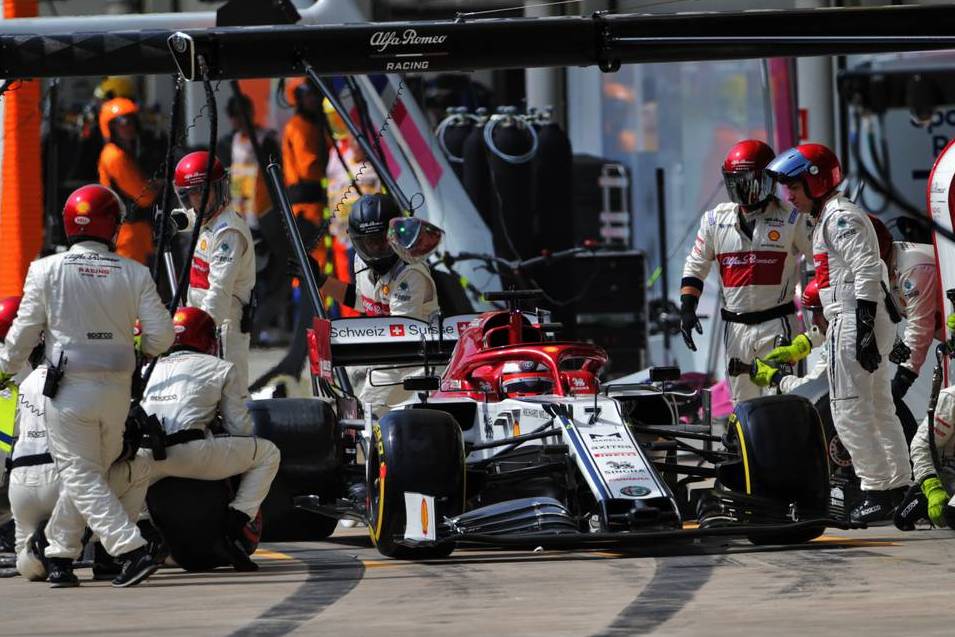 Having squandered those opportunities in the first two races, Alfa's points haul from Brazil was indeed the single best for any of the 'midfield' teams all season long. Only Toro Rosso managed to go a single point better all year at Hockenheim, thanks in large part to Daniil Kvyat's podium.
Despite everything, Vasseur felt that Alfa had done better last season than was generally appreciated by the fans and the media.
"Sometimes the results you are getting on track is not reflecting the performance or the pace," he suggested. "On a performance basis I think we did a good job.
"What is important for me is that we closed the gap compared to the leaders drastically compared to last year," he added.
"It's a good step forward and we have to do the same [again this year]. We have to keep the same motivation, and so on."
Alfa heads into the new season with an unchanged driver line-up, despite Vasseur's admission that Giovinazzi had come close to losing his race seat with a last lap crash in the Belgian Grand Prix.
Robert Kubica has been added to the team's line-up as reserve driver following his departure from Williams at the end of last season, but is unlikely to get any track time at Grand Prix weekends.
Gallery: The beautiful wives and girlfriends of F1 drivers
Keep up to date with all the F1 news via Facebook and Twitter