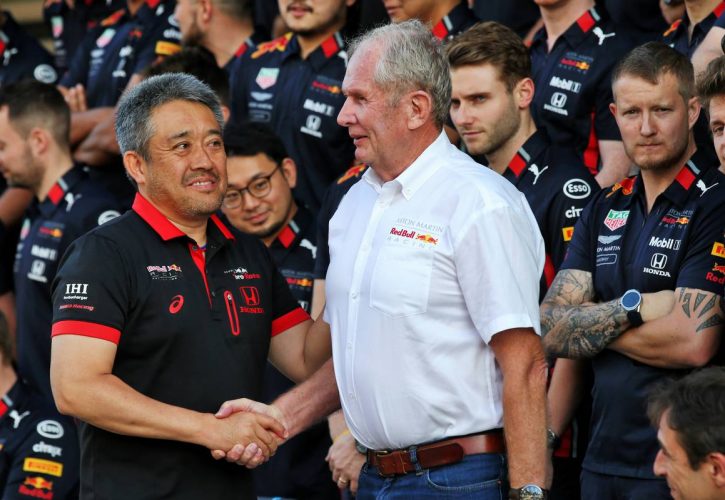 Red Bull motorsport boss Helmut Marko believes that Max Verstappen's new contract with Aston Martin Red Bull Racing should incite Honda to also extend its partnership with the Milton Keynes-based outfit.
Red Bull announced on Tuesday a three-year extension to Verstappen's current deal with the team, news that has put to rest part of the speculation regarding the 2021 drivers' market, and particularly the prospect of Mercedes poaching the Dutchman from Red Bull in the event of Lewis Hamilton's departure from the Silver Arrows outfit.
"It was difficult for us to guess what the exact story is between Ferrari and Hamilton," Marko told Auto Motor und Sport.
"But it's clear that Mercedes will be forced to act if Hamilton goes to Ferrari in 2021. Max would have been the first driver they would have targeted.
"That was a very important step for us. Now we can look to the future with more confidence."
But Marko thinks the move will have also reassured Honda and encouraged the Japanese manufacturer to remain in F1 beyond its current 2021 term.
"Honda received the message positively, Max is very important to the Japanese. They love his aggressive driving style and his openness."
Marko believes he'll soon be on a flight to Japan to finalize Red Bull's future with its engine suppliers beyond 2021.
"There will be talks with Honda soon," he added. "I'm just waiting for an appointment for when I have to fly to Japan."
Verstappen recently expressed his confidence about Red Bull's chances of fighting for the world title this year. As someone privy to what is going on behind the scenes at Milton Keynes and to Honda's development, Marko is equally upbeat about 2020.
"If the others want to be even better, they'll have to improve dramatically," the Austrian warned.
"Max knows what's going on at Honda. He's already seen the new car and he values the continuity in the team. In the end there was a common desire to continue from him and from us."
Marko naturally declined to elaborate on the financial details contained in Verstappen's new deal, but suffice to say the Dutchman will likely become one of the sport's top earners in the years ahead.
"The new contract wasn't cheap," admitted Marko. "But I didn't feel like playing poker."
Gallery: The beautiful wives and girlfriends of F1 drivers
Keep up to date with all the F1 news via Facebook and Twitter