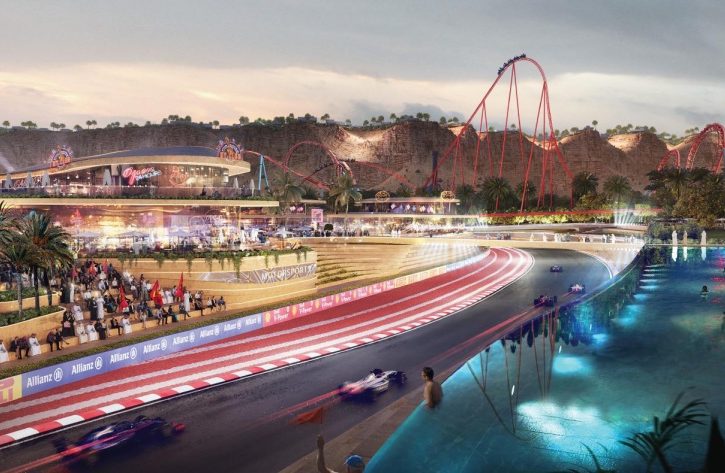 Saudi Arabia's future F1 plans continue to unfold, with a dedicated circuit designed by former driver Alex Wurz to be built at Qiddiya, just outside Riyadh.
The new track is expected to be the "centerpiece" of a the Qiddiya entertainment mega-project which is part of the country's Saudi Vision 2030 initiative which aims to reduce Saudi Arabia's dependency on oil by diversifying its economy into a multitude of sectors such as infrastructure, recreation and tourism.
Qiddiya chief executive Mike Reininger said that negotiations between Saudi authorities and Liberty Media are ongoing, with venue's infrastructure ready to host a race from 2023.
"We're building a facility in the hope there will be a deal struck and there is a race here in Saudi," Reininger told BBC Sport.
"The formalisation of a race is not for us at Qiddiya. It is outside the confines of the project itself.
"But we are building a facility that will be able to host a really world-class event as one of the signature items we will have on offer here at Qiddiyah as we open in 2023."
Qiddiya's FIA Grade One standard track project was formally unveiled at an event on Friday attended by 1996 F1 world champion Damon Hill, former driver David Coulthard and Haas' Romain Grosjean.
Design and layout for Qiddiya's racing complex was handled by former Benetton and Williams driver Alex Wurz, whose company has been involved in the design of several circuits in the past.
A two-time Le Mans winner, Wurz is also the chairman of the Grand Prix Drivers' Association of which Grosjean is a director.
"It's a privilege of a lifetime to design the motion & mobility zone in Qiddiya, including the Speed Park track," Wurz said.
"The visionary Qiddiya project offers us amazing opportunities to design a track, a true racing arena for drivers, spectators as well as the viewers at home.
"The design offers amazing elevation changes, making use of the stunning natural landscape. Equally the design is made to challenge drivers and engineers alike. And from our simulation runs, I can assure you it is absolutely thrilling as an on and off track experience. Qiddiya has all it takes to become the motorsport capital of the world."
Rumors of a race in Saudi Arabia emerged last this year, but earlier this week the Daily Mail reported that all parties were closing in on a deal reputed to be worth an enticing $60 million for Formula 1.
Gallery: The beautiful wives and girlfriends of F1 drivers
Keep up to date with all the F1 news via Facebook and Twitter