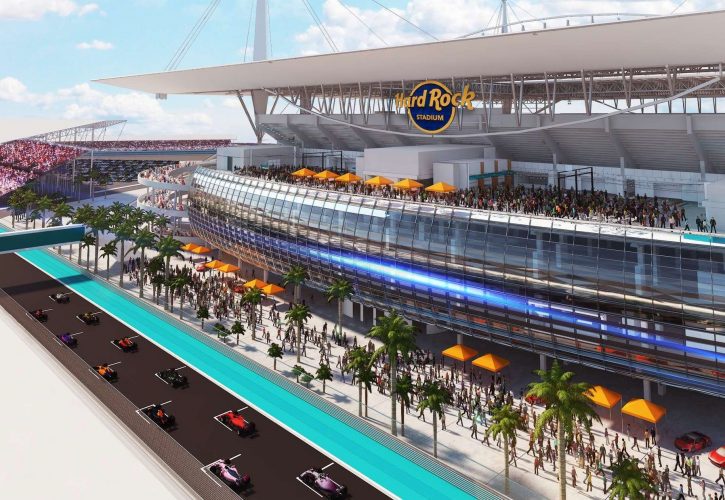 A crucial local government vote over proposals to hold a Formula 1 Grand Prix in the city of Miami, Florida has been pushed back until February.
Miami-Dade County Commissioners had been due to make a decision directly impacting on proposals to hold the race, in a meeting held on Wednesday.
District Commissioner Barbara Jordan presented an zoning ordinance vote to block the Hard Rock Stadium from staging motor racing events, but then requested a deferral until February 4.
In advance of the meeting, organisers of the event including NFL franchise the Miami Dolphins had presented modifications to the track avoiding any use of 199th Street in the circuit layout.
Changes were also made to the draft schedule to try and win over local residents by pledging that there would be no racing before 3pm.
A representative for Formula 1 and the organisers told last week's meeting that the revisions had addressed all concerns raised by local residents, and asked for the vote to go ahead so that preparations could forward.
But while several commissioners spoke in favour of holding the Grand Prix, ultimately the vote was deferred for two weeks.
Commissioner Dennis Moss then revived suggestions that the race could be held instead at the existing Homestead Raceway facility used by NASCAR instead of on city streets. However this was rejected as a non-starter by the mayor, Carlos Giminez.
"If Formula 1 wants to be in Miami, it'll be at the Hard Rock Stadium," he insisted. "Not at Homestead or anywhere else.
"It takes 18 months to two years to build a track so, if we defer this, or pass this ordinance, we can pretty safely say Formula 1 is not coming to Miami.
"We'd have another process where it goes to the city of Miami Gardens before it comes back over here and that takes months and months.
"They wouldn't be able to build the track for a 2021 race and they're not going to wait for 2022," Giminez pointed out.
The representative for the promoters said that discussions with local residents groups were ongoing. However he conceded that it now appeared that resistance to the race had hardened and was effectively a "stone wall".
A commercial agreement between Formula 1 and the Miami Dolphins is already in place, with the event scheduled to join the F1 calendar in May next year in a ten-year deal.
It would be a second event in the United States, with the Circuit of the Americas in Austin, Texas expected to remain on the calendar in its autumn spot.
Gallery: The beautiful wives and girlfriends of F1 drivers
Keep up to date with all the F1 news via Facebook and Twitter