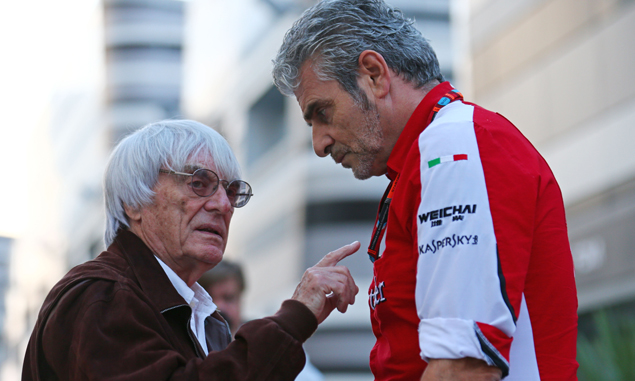 Formula One commercial chief Bernie Ecclestone warns that Mercedes and Ferrrari's stronghold on the sport, both on and off track, could potentially end up destroying it altogether.
Ecclestone's remarks come in the wake of escalating tensions with the series' manufacturers, as he still pushes for new engine regulations to be implemented.
The rift started growing when F1's ruling body, the FIA, released a strong-worded statement to allow the introduction of an independent power unit from 2017. The document, which had been endorsed by Ecclestone's Formula One Management [FOM], came out after Ferrari had vetoed cost-capping measures.
The 85-year-old supremo hints that Mercedes has also blocked measures to have more affordable engines in F1, while giving "an awful lot of help" to Ferrari in terms of power unit design.
"We're trying to save the sport and these people are trying to save it for their own good," he told the BBC in a wide-ranging interview.
"There is all sorts of things we know we can do and should do to make F1 back on the road where it should be, because we are in show business.
"We are there to entertain the public. We are not there to put on a show for Mercedes to demonstrate and sell their cars. Or Ferrari."
Ecclestone once again spoke out against the current breed of 1.6-litre V6 turbocharged power units, saying these only serve the interest of the constructors, especially the one that has been dominating the field for two years.
"We're helping a manufacturer. Because it doesn't make a lot of difference to Ferrari with the sort of engines they make. It helps Mercedes.
"So we are going to destroy Formula 1, if you like, because of a manufacturer, who would leave like the others have left when it suits them - BMW, Toyota, they leave [at the end of 2009] when it suits them."
With Mercedes and Ferrari supplying eight out of 11 teams enrolled for 2016, Ecclestone sums up their influence over rule-making by claiming that when Mercedes motorsport boss Toto Wolff "puts his hand up and says Christmas is going to be 26 December, everybody agrees – same with Ferrari".
Exclusive pictures of the Mercedes power unit
Mercedes tops list of 2016 F1 entry fees
Use the red tabs on either side of the screen to scroll through more Formula One news and features
Click here for a gallery of the McLaren MP4-X
Keep up to date with all the F1 news via Facebook and Twitter