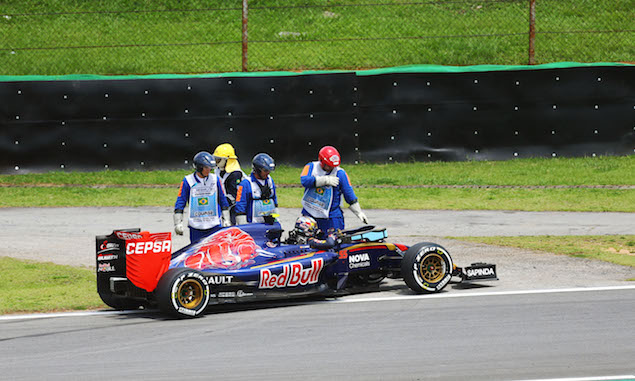 Carlos Sainz says he was in a big learning curve throughout 2015 and does not believe numerous retirements hampered his experience.
The Toro Rosso rookie suffered a run of bad luck in the middle of the season which saw him retire from four consecutive races due to reliability problems. Despite two other retirements seeing Sainz fail to finish more than a third of the races for reasons outside his control, the Spaniard feels fully prepared for a much stronger 2016.
"For sure I cannot complain about my year, about the performance of my year I really don't have much to criticise or much to point out," Sainz said. "In terms of learning, sure, I didn't even start the Spa race, didn't even complete a lap in Brazil, I retired in my first stint in Bahrain and the second stint in Hungary, so sure it's not ideal in terms of learning but still my learning curve through the year has been big so a big thanks to the team.
"I won't go into next year thinking 'Oh I should have learnt more this year'. Of course I would have liked to do a lot more racing and finish more races but I feel ready for next year with a lot more knowledge and a big learning curve behind me."
And Sainz says it was important for him to follow up an opening-lap retirement in Brazil by seeing the chequered flag in the final race in Abu Dhabi.
"My rookie season ends with a positive feeling because I think we've had a good year and overall I've definitely learned a lot every race, become a better driver and this will make me stronger."
Three F1 seasons in one - Pirelli boss offers radical scheduling plan to save F1
Exclusive pictures of the Mercedes power unit
Use the red tabs on either side of the screen to scroll through more Formula One news and features
Click here for a gallery of the McLaren MP4-X
Keep up to date with all the F1 news via Facebook and Twitter