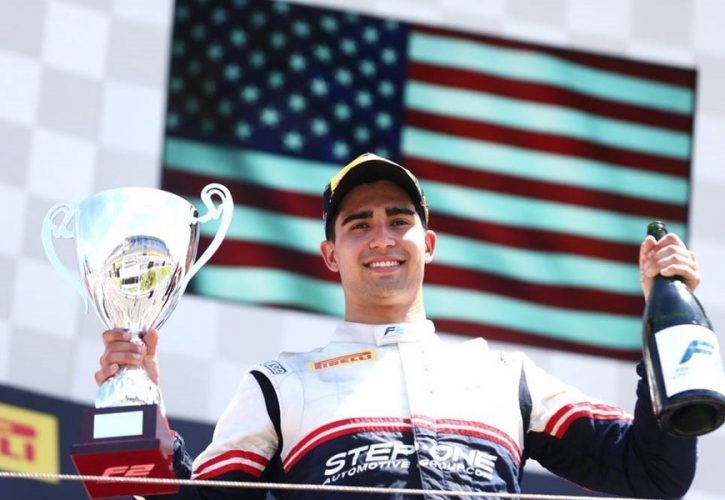 F2 racer Juan Manuel Correa will join Antonio Giovinazzi on Sunday's Chinese Grand Prix grid, the third installment of F1's Virtual Grand Prix series.
Formula 1's official online championship is gaining momentum thanks to the fame of its participants which include Charles Leclerc, Lando Norris, Alex Albon, George Russell, Nicholas Latifi, Giovinazzi and more talented pro and sim racers.
While Giovinazzi heads into his second Virtual GP, having finished fifth on his debut in Melbourne, Correa - who tested for Alfa in 2019 in the real world of F1 before his horrendous crash at Spa last summer - will take part in his first F1 sim racing event.
However, the Ecuadorean-American driver has been showing off his online skills in various Esports events in the past month.
Another man to watch in Sunday's race is Belgian football ace Thibaut Courtois, as talented behind the wheel of a virtual car as he is when defending the goal posts of Real Madrid in Spain's La Liga.
Courtois will line up in China with Red Bull Racing alongside teammate Alex Albon.
"I am really happy to be racing this Sunday in the Virtual GP alongside Alex Albon for Aston Martin Red Bull Racing and to be part of the Red Bull Esports family," said the famous goalie.
"They've shared some tips with me and helped me train over the last few weeks so I'm now really looking forward to the race.
"I love the game, I've faced Alex a few times already on track and racing against other F1 drivers is pretty awesome.
"Practice over the last few weeks has seen me always around the middle of the grid so I'm hoping to get in to the points!"
Sunday's virtual action will kick off at 6pm UK time (1pm EST - 7pm CET) and will be streamed live on the official Formula 1 YouTube, Twitch, Weibo and Facebook channels.
Gallery: The beautiful wives and girlfriends of F1 drivers
Keep up to date with all the F1 news via Facebook and Twitter