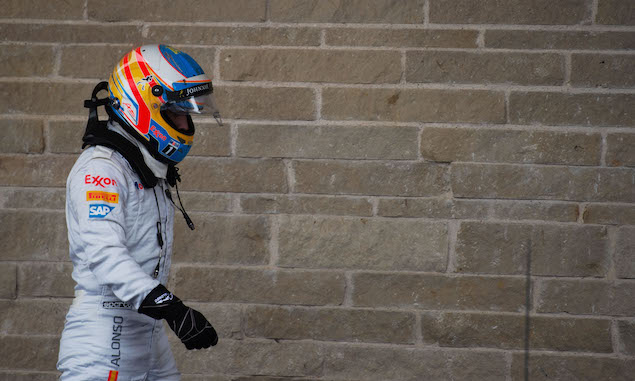 McLaren boss Ron Dennis says Fernando Alonso knows "great years lie ahead of him" at the team.
Alonso rejoined McLaren at the start of 2015 with the team having left Mercedes to work with former engine partner Honda. While Honda's return to F1 proved to be troublesome, Dennis insists Alonso has not grown frustrated with the situation this year as he is convinced the difficult start to the partnership will pay off in the future.
"Fernando's contract is of three years' duration - no performance clauses, no nothing," Dennis told the official Formula One website. "He always knew that 2015 would be a learning year. He knows equally well that, together with Honda, we'll make big improvements. So he joined us with open eyes.
"Together with the expertise and experience he's cultivated over the past 15 years spent racing in Formula One, he still bristles with energy and enthusiasm. He's had better years than 2015, obviously; but he knows that great years lie ahead of him, with McLaren-Honda."
Alonso's best result of 2015 was fifth place in the Hungarian Grand Prix, resulting in the first time he has failed to score a podium in a season since his debut with Minardi in 2001. While Dennis revealed the pair had entertained the idea of Alonso taking a sabbatical at one stage, the Spaniard says his motivation to race will never waver.
"We will be racing," Alonso said. "100%. If I had to choose a sabbatical I would have chosen this one, but I was [racing] and pushing and giving my maximum. I always will."
Mercedes: Ferrari not involved in data theft
Romain Grosjean exclusive: From Lotus to Haas
Use the red tabs on either side of the screen to scroll through more Formula One news and features
Click here for a gallery of the McLaren MP4-X
Keep up to date with all the F1 news via Facebook and Twitter