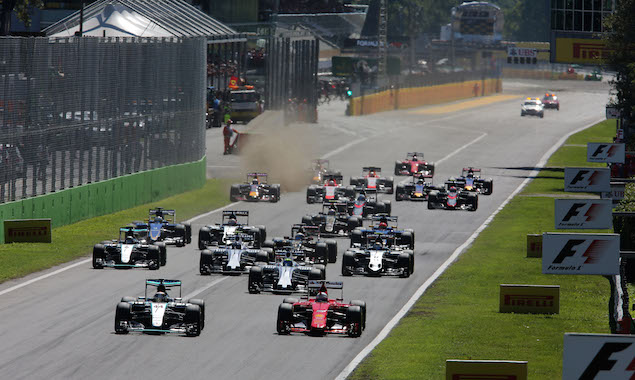 The future of the Italian Grand Prix at Monza is set to be saved by a new legislation which will allow increased funding for the race.
2016 will be the last race of the current contract at Monza, with Bernie Ecclestone having suggested it could fall off the calendar as he was struggling to agree a new deal with the race organisers. Increased race hosting fees were central to the issue, with Monza unable to afford the larger amounts.
Part of the problem were restrictions on how the Automobile Club d'Italia (ACI) could spend its resources, but a report in La Gazzetta dello Sport now states the Italian government is set to approve the removal of the limitations in order to save the race.
Italian prime minister Matteo Renzi was present for talks with Ecclestone during this year's Italian Grand Prix, and president of the ACI Angelo Sticchi Damiani says it proved to be a crucial move.
"This statute prevented us from intervening to save Monza," Sticchi Damiani told La Gazzetta dello Sport. "We had problems distinguishing income from sport and other activities. This change has been decisive and so the most important work is now done.
"At this point, it has to be approved by parliament, which should be done before Christmas. I have to say that it was important to have Matteo Renzi at the Grand Prix."
Mercedes: Ferrari not involved in data theft
Romain Grosjean exclusive: From Lotus to Haas
Use the red tabs on either side of the screen to scroll through more Formula One news and features
Click here for a gallery of the McLaren MP4-X
Keep up to date with all the F1 news via Facebook and Twitter