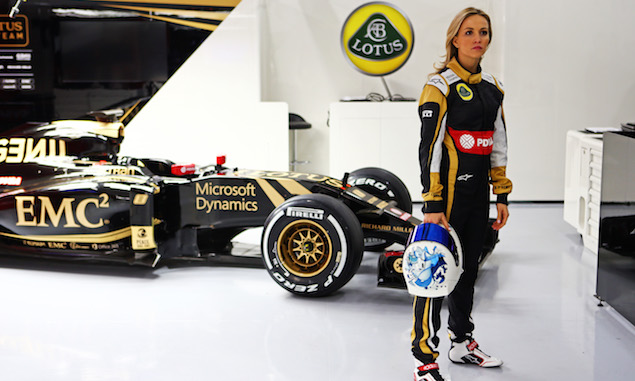 Lotus has announced Carmen Jorda has joined as a development driver for the 2015 season.
Jorda has most recently been racing in GP3, where 44 starts across three seasons failed to yield a point-scoring finish. Lotus says she will join the team "with her sights firmly set on driving the E23 Hybrid before the year is out", with a focus on simulator work until then.
"It feels like a dream come true to join Lotus F1 Team," Jorda said. "I've been racing since I was ten years old so it was my dream to drive a Formula 1 car since I was very young.
"Joining Lotus F1 Team is a big step towards my goal. I will be working to improve myself as a driver as well as helping the team to develop the car by testing new developments in the simulator; it's such a fantastic opportunity.
"I know this is just the beginning and the biggest challenge is yet to come but already being part of a team with such a history is a real honour. This is a great achievement, but an even greater opportunity which will lead to bigger and better things."
Lotus CEO Matthew Carter says Jorda will attend a number of races this season as part of the new role.
"We are happy to announce Carmen Jorda as a Development Driver for Lotus F1 Team and we are looking forward to working with her over the course of the season and ultimately seeing her behind the wheel of the car," Carter said. "Carmen will bring a fresh perspective to the team.
"We have a strong programme for her attending Grands Prix as well as extensive time in our sophisticated simulation facility at Enstone. She is a unique addition to the team and we are looking forward to helping her progress her goals as well as receiving the benefit of her insights and contributions to the development of the E23 Hybrid."
Click here for the gallery from day one of the final test