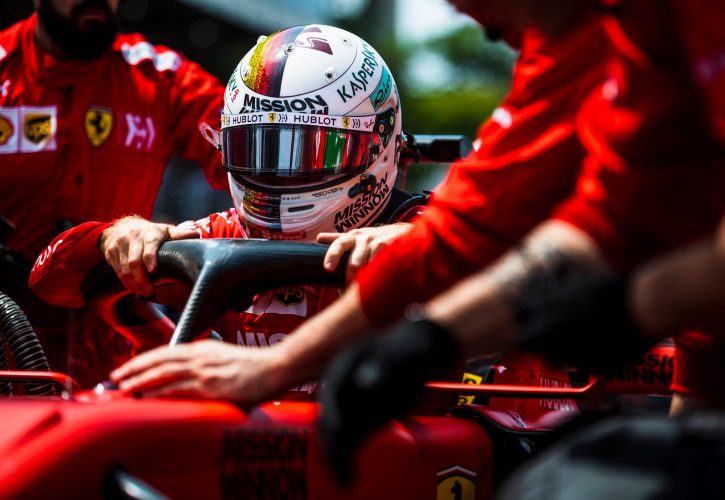 Ferrari team boss Mattia Binotto says Sebastian Vettel's departure from the Scuderia is rooted in the pair's diverging views over the team's short and long terms objectives.
The four-time world champion and the Italian outfit have jointly agreed to part ways at the end of 2020, thus concluding a six-year relationship that delivered 14 wins but failed to return the world title to Maranello.
In Tuesday's joint statement, Vettel referred to the lack from both parties of "a common desire to stay together" beyond the current season.
Despite Ferrari reportedly offering the German a limited one-year deal accompanied by a significant pay cut, Vettel insisted that financial matters had played no part in the split.
Speaking at the Motor Valley Fest event in Italy on Thursday, Binotto shed a bit of light on the origin of team and driver's differences.
"When taking these decisions it's because we are convinced we made the right decision," explained Binotto.
"We closed a cycle with Sebastian, it's been six years he has been working in our team. I admire Sebastian as a person and as a driver. I hold him in great esteem.
"Over the last weeks, the world has changed, not only from an economic point of view but also from a technical and sporting point of view.
"There are challenges and obstacles ahead. We are laying the foundations for our future. And we want to have a specific perspective.
"We discussed it with Sebastian and we found out we didn't share the same short or long-term goals."
Binotto also offered a few words on Carlos Sainz who will be replacing Vettel at the Scuderia next season.
"Sainz is a great addition," Binotto said. "He's very smart, young, but he has participated in five seasons.
"He's a strong, reliable driver that has scored a lot of points and I believe he is a great driver to be paired with the pure talent of Charles, so that he can grow and win."
Gallery: The beautiful wives and girlfriends of F1 drivers
Keep up to date with all the F1 news via Facebook and Twitter