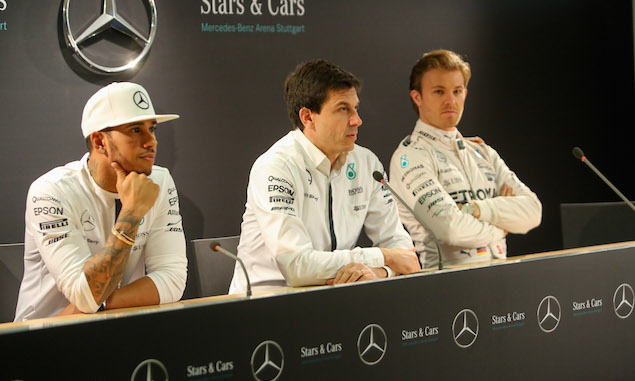 Mercedes motorsport boss Toto Wolff says the team "would have probably exploded" if it had two Lewis Hamilton characters driving for it.
Hamilton won a second straight drivers' championship in 2015 after a dominant start to the year, but a number of robust moves on team-mate Nico Rosberg - most notably at the start of the United States Grand Prix where he went on to secure the title - led to the relationship between the drivers becoming strained.
Wolff has previously warned the two drivers he will consider changing the line-up if their rivalry becomes too difficult for them to manage, but he told Auto Motor und Sport it is better that the drivers are not too similar.
"If we had two Hamiltons, the team would have probably exploded," Wolff said. "Two Rosbergs would not make it easier though.
"The combination of the two is quite good. It is the ideal situation, even if it sometimes makes life hard. They are so different, they have an individual approach. This helps us to be better."
And Wolff is expecting the battle between the pair to be even closer at the start of 2016, believing Hamilton to have failed to reach his maximum potential after securing the title.
"Psychology plays a major role. Lewis has achieved his goal, bagged the title and then relaxed a bit. Although that has perhaps only taken place subconsciously. At the same time, I do not want to detract from Nico's performance. He showed in the last races a great performance.
"I think that's good, because we have two great drivers in the team for next year. Both will be back to peak performance. This is key to success for us. They both inspire and bring the team forward – although it caused many grey hairs."
Honda exclusive Q&A: Reflections on 2015
Romain Grosjean exclusive: From Lotus to Haas
Use the red tabs on either side of the screen to scroll through more Formula One news and features
Click here for a gallery of the McLaren MP4-X
Keep up to date with all the F1 news via Facebook and Twitter