Former Ferrari engineer Rob Smedley says Scuderia 2021 recruit Carlos Sainz will need to grow a "thick skin" to enjoy a lasting career with the Italian outfit.
Sainz will transfer from McLaren to the House of Maranello at the end of the year, joining Charles Leclerc to form Ferrari's youngest driver line-up in over 50 years.
The move is another ambitious step up the ladder for Sainz. But Smedly, who worked at Ferrari from 2004 to 2013, offered a word of advice to the 25-year-old Spaniard when speaking on the latest episode of the sport's F1 Nation podcast.
"Grow thick skin. Really thick skin. You're going to need it," said the British engineer who worked as head of vehicle performance at Williams for five seasons before moving into his current role as a data engineer for Formula 1.
"For a lot of us who lasted a long time there, Ferrari becomes a part of you.
"And there are wonderful, really amazing, things about Ferrari, and some really dreadful things about Ferrari. And see quite often – especially when you get into more senior positions – both sides of that coin.
"You see the part where you think 'why would I ever want to leave this place?' and then there's other times when it becomes more difficult and a bit more frustrating and you kind of have to stand up and meet the challenge and be the best that you can be. And that's on a daily basis."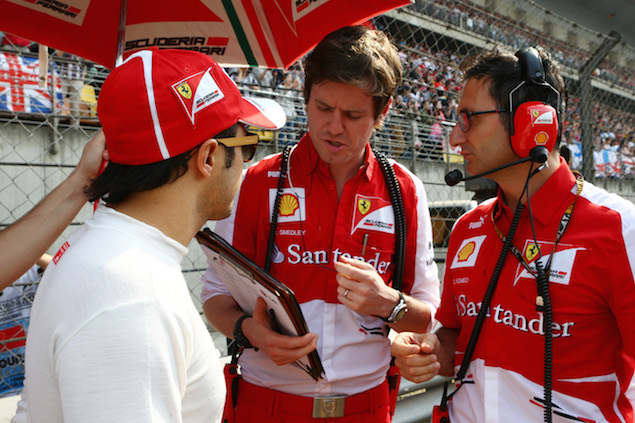 Many have succumbed to Ferrari's very real high-pressure environment which Smedley experienced firsthand.
"If I've learned anything from my time in Formula 1, it's that at Ferrari there is no second best," he said.
"Second best is never good enough. It's a culture that's been built up in Mercedes now as well.
"But definitely with Ferrari you've got the added pressure of the media and the fans.
"It's a national institution, it's a religion, and therefore that pressure never, ever, goes away.
"Even when you leave the office and you might go out to a restaurant or a little cafe or whatever, you don't even have to be near Maranello, people know who you are and people will give you their clear opinion on what they think about Ferrari and what they think about you, because that's just what they do.
"But at the same time, it is an absolutely incredible place to work – the passion, and being part of that, especially for the guys on the race team."
Smedley believes Sainz will have the ability to withstand Ferrari's perils and the test of time.
"The beauty about Ferrari is that it is always about Ferrari, it's never about individuals," he added. "And they're relentless and ruthless in their pursuit of winning.
"I don't know Carlos very well but he seems like a guy that will be able to get on in that environment very well.
"He's going to love it."
Gallery: The beautiful wives and girlfriends of F1 drivers
Keep up to date with all the F1 news via Facebook and Twitter