This weekend should have been one of motorsport's high points of the year with the Le Mans 24 Hours and the always entertaining Canadian Grand Prix in Montreal.
The coronavirus has pushed back the former to September and the latter likely to next year, but both events will spectacularly unfold in the virtual world this weekend, starting with the legendary endurance classic that will kick off this afternoon.
Here is a rundown on both events: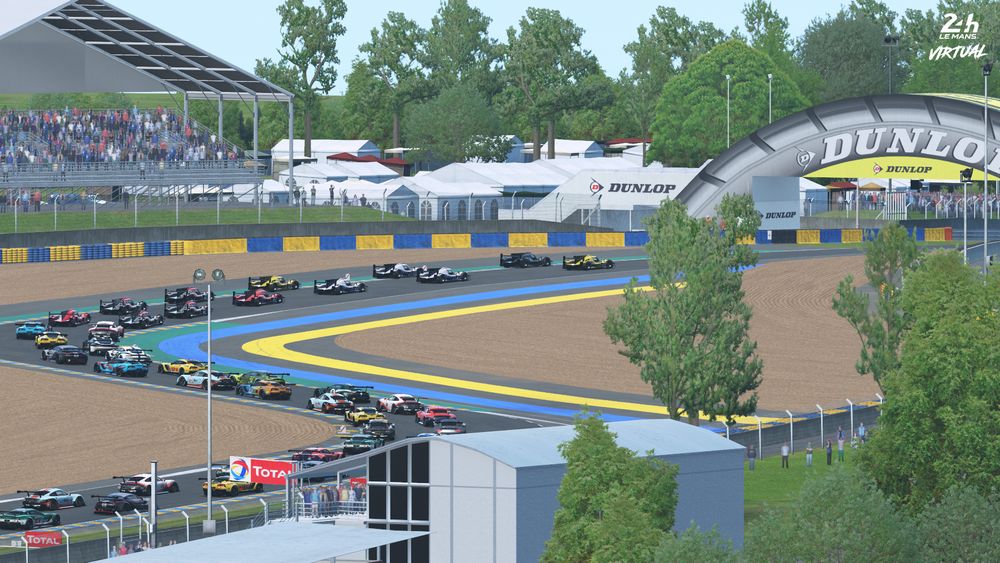 Virtual Le mans 24 Hours
Le Mans's historical prestige has transferred to Esports with a packed field of contenders that includes no less than 24 current or former F1 drivers.
Sanctioned by the World Endurance Championship and the ACO, and run on rFactor2, the Le Mans 24 Hours will feature just two classes, LMP2 and GTE.
The race's organisers were well inspired to simplify the platform but they also opted to force each team to run a blend of pro and sim racers in their line-ups.
So one will recognize many familiar names from various motorsport categories in the entry list, starting with Team Redline's high-profile pairing of Max Verstappen and Lando Norris who will be supported in their online efforts by Atze Kerkhof and Greger Huttu.
F1's current grid will also be represented by Pierre Gasly, racing for Jean-Eric Vergne's Veloce team, and Charles Leclerc and Antonio Giovinazzi who have teamed up to race an AF Corse Ferrari 488 in the GTE class.
To complement the distinguished group, two F1 world champions will be giving it their best in the sim: Fernando Alonso, who will be racing for his own team alongside Rubens Barrichello, and Jenson Button who will be fighting around the clock alongside his good friend Alex Buncombe for the Brit's Team Rocket Zansho.
Also on the list of contenders, among others, are Juan Pablo Montoya, Felipe Massa, Sebastien Buemi, Kamui Kobayashi, André Lotterer, Brendon Hartley, Olivier Panis, Stoffel Vandoorne, Jan Magnussen, Felipe Massa, Giancarlo Fisichella, Simon Pagenaud, Tony Kanaan, Felix Rosenqvist and Antonio Felix da Costa.
And they'll also be an all-female crew that will include Katherine Legge, Sophia Floersch, Tatiana Calderon and sim racer Emily Jones.
The full list of entrants can be downloaded from the FIA World Endurance Championship site.
When: the action will kick off on Saturday at 2pm BST (9am EST - 3pm CET).
Channel: the event will be streamed live on the official FIA WEC and 24 Hour of Le Mans YouTube channels
---
Virtual Canadian Grand Prix
Preparations for the opening race - in the real world - of the 2020 season are in full swing, so F1 will be winding down its virtual series on Sunday evening at Montreal.
Championship leader George Russell has unfortunately been left without a challenger as Ferrari's Charles Leclerc - the only driver who could have overhauled the Williams charger in the points standings - will be absent from the grid as the Monegasque commits to Le Mans, as will also be McLaren's Lando Norris.
Russell therefore seals the virtual title but there will still be bragging rights up for grabs  around the Circuit Gilles Villeneuve.
Valtteri Bottas will be back online on Sunday evening, as will be Pierre Gasly and the blindingly fast Alex Albon who will certainly give Russell a run for his money and prevent the young Briton from making it four wins in a row.
Young guns David Schumacher, Pietro Fittipaldi, Louis Deletraz, and FDA members Callum Ilott and Gianluca Petecoff will boost the field along with a few guest drivers such as Sweden's gold-medal free-skier Jon Olsson and Biffy Clyro singer Simon Neil.
Ahead of Sunday's finale, Julian Tan, F1's head of digital business and Esports is delighted with the "resounding success" enjoyed by F1's first virtual season.
"The Virtual Grand Prix series has been a resounding success," said Tan. "We are so glad to have been able to provide our fans with racing action as well as engagement with our stars during a time when most live sports had gone dark.
"The Virtual Grands Prix have given us a chance to reach a whole new audience and we'd love to see anyone who has enjoyed watching the series continue their journey with us when the action returns."
When: Sunday 6pm UK time (1pm EST - 7pm CET)
Channel: Formula 1 YouTube, Twitch, Weibo, Huya and Facebook channels