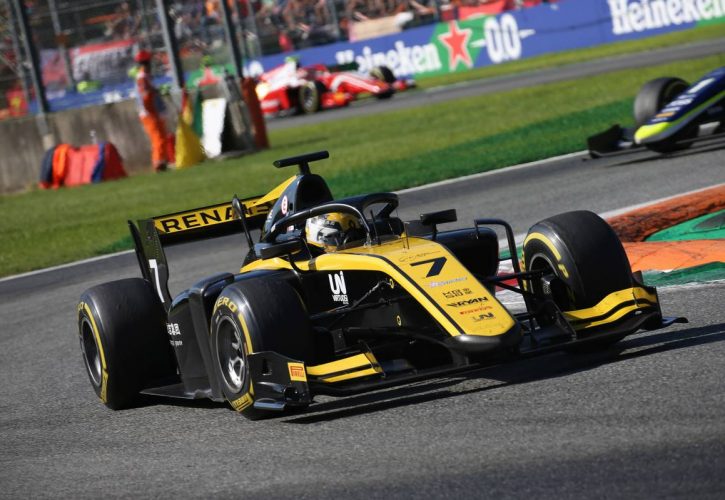 Renault F1 boss Cyril Abiteboul says the manufacturer's young chargers - Guanyu Zhou and Christian Lundgaard - could be considered as candidates to replace Daniel Ricciardo in 2021.
Ricciardo will end his two-year stint with Renault at the end of the season, the Aussie electing to move on to McLaren.
While Sebastian Vettel and Fernando Alonso have both been linked with the French outfit, few believe either driver would accept to race in the midfield in 2021.
Other options, such as a return of Nico Hulkenberg to Enstone, are under consideration, but Abiteboul isn't dismissing plucking one of its juniors from its talent pool.
Alas, the late Anthoine Hubert, who was earmarked for a potential promotion to F1 for 2021, was tragically killed at Spa in 2019, stripping Renault of a promising young talent.
But F2 racers Zhou and Lundgaard will be under the scrutiny of Abiteboul when there campaign kicks off in Austria alongside F1.
"We want to see what's the pace of Guanyu Zhou, what's the pace of Christian [Lundgaard], their competitiveness. They could be fantastic options," Abiteboul told Motorsport.com.
"As we speak now, it's a bit audacious to think that, but who knows?
"With one more season of F2 for them, it could be the right thing to do. And that's typically the sort of thing that we could not decide when the decision had to accelerate with Daniel."
Zhou, who bagged five podiums last year with British outfit Virtuosi Racing, is determined to at least secure his superlicence this season in order to be ready to seize an opportunity to become China's first F1 driver.
"My goal is to finish the season in the top three - top four will be fine - as long as I could get the points I need for a superlicense," he said. "Should any chance arise, I don't want to miss it."
But Danish charger Lundgaard, who will step up to F2 this season with ART Grand Prix, is equally determined to prove that he is worthy of moving up to the next level.
"Ricciardo leaving the team could be my chance," he told BT Newspaper last month.
"Renault expects me to be ready if the opportunity presents itself. Fortunately, I am quick to learn and good at adapting to new surroundings."
Gallery: The beautiful wives and girlfriends of F1 drivers
Keep up to date with all the F1 news via Facebook and Twitter