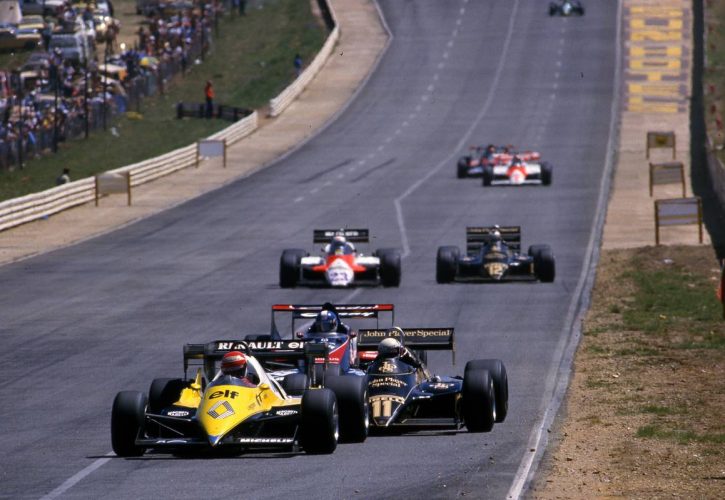 Reigning F1 world champion Lewis Hamilton says that Africa is an important place for F1 to go back to and establish a new legacy for the sport.
Despite its size, Africa is the only continent on the planet currently not hosting a Grand Prix - with the exception of Antarctica.
The most recent GP held there was 27 years ago, when the 1993 season started in South Africa at the Kyalami circuit. The race was won by Williams driver Alain Prost, who crossed the finish line over a minute ahead of McLaren's Ayrton Senna.
In total, 23 world championship races have been held in Africa. Almost all of them were held at either Kyalami or East London, with a single one-off event in Morocco in 1958 which was won by Stirling Moss.
Morocco still regularly hosts rounds of the Formula E and touring car championships, while the World Rally Championship had planned to race in Kenya this season before the schedule was disrupted by the coronavirus pandemic.
The medical situation has also hit the F1 calendar hard, with the sport's bosses scrambling to put together a revised itinerary. Hamilton believes this presents an opportunity for the sport to look into a long-overdue return to Africa.
"Africa, it's such an important place to go back," Hamilton said in a video released by Mercedes sponsor Petronas when asked where he would like to see a race being held this year.
"At the moment F1 goes to countries and doesn't really leave much behind if anything," he continued. "F1 has to shift into being a sport that does go to place and leaves behind something that can really help the communities.
"Bringing the attention back to Africa and highlighting the beautiful place it is, I think that's the most important place that we have to go to.
"It needs to be held where it's not all about money, it's about people," he added. "In business that's not always the case, so that's something I'm pushing for."
Kyalami has recently been renovated but remains a Grade 2 listed facility. A circuit needs to attain a Grade 1 safety rating in order to be eligible to hold a world championship race.
F1's owners Liberty Media have been looking at new venues and opportunities around the world since acquiring the commercial rights to the sport at the start of 2017.
This year would have seen new races in the Netherlands and in Vietnam, while plans continue for a second GP in the United States in Miami as well as for an event in Saudi Arabia.
The disruption caused by coronavirus has added to the push for a more flexible approach to scheduling races, with Mugello and Portimao both mooted to hold short-notice races and a return to Imola and Hockenhem also mooted.
The omission of a race in Africa has not gone unnoticed by the F1 management team, with former commercial director Sean Bratches having previously acknowledged that it was a priority.
"We are now racing on five continents," he said last year before stepping down from his role. "Africa is the last habitable continent that we don't race on. We want to change that."
Gallery: The beautiful wives and girlfriends of F1 drivers
Keep up to date with all the F1 news via Facebook and Twitter