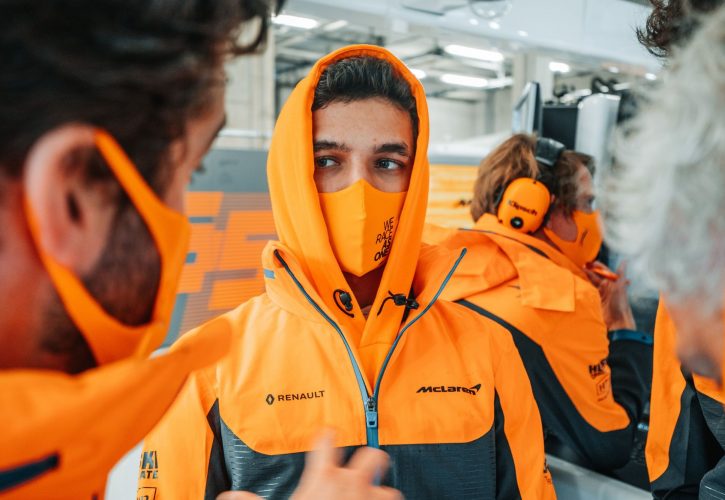 McLaren's Lando Norris is expecting to endure a difficult Styrian Grand Prix on Sunday as the back pain that limited his running on Friday continues to linger.
Qualifying's wet conditions coupled with a dose of painkillers alleviated Norris' discomfort on Saturday, allowing the 20-year-old to clock in with an impressive sixth fastest time.
But should dry conditions prevail for the 71-lap race, the McLaren charger is expecting a physically challenging afternoon.
"I won't say what it is, but it's not so much the back, it's more something inside and when I'm hitting the brakes and I'm cornering, I'm getting the compression from the G-force and causing a lot of pain," Norris told Sky F1.
"We're trying to figure out what it is, it's a lot better today and more because I'm drugged up slightly and it's wet conditions. But I think it's going to be a bigger challenge tomorrow."
Norris' best lap in qualifying's tricky conditions was just over two tenths down on the remarkable P3 time delivered by his teammate Carlos Sainz.
However, Norris will start his race from ninth position as a result of a grid drop handed to him by the stewards for not respecting a yellow flag on Friday.
The youngster was also kicking himself for a few small mistakes made on his best lap in Q3.
"You know when you should have done a better job - sometimes you're far off and you don't know why or how and that's just annoying," he admitted.
"But sometimes you know for a fact that you should have done a better job and my last lap was my best lap when the conditions were almost at their worst.
"And then a little oversteer coming around Turn 8 and I lost four or five tenths before the second-to-last corner.
"So, when you know you should have done a much better job, that's the very frustrating thing.
"Of course we're happy with P6, it's better than almost all of my results, but three places with the grid penalty… it would be nicer where Carlos is and then get put back to where I am."
Gallery: The beautiful wives and girlfriends of F1 drivers
Keep up to date with all the F1 news via Facebook and Twitter