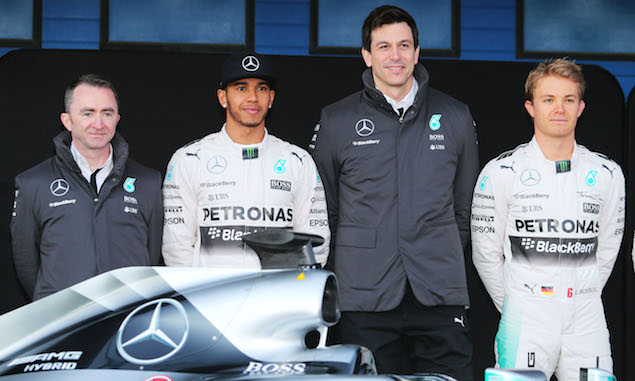 Toto Wolff says Mercedes might try to bring further excitement to F1 in 2016 by "unleashing" Lewis Hamilton and Nico Rosberg.
The two drivers have won all but six of the 38 races since the start of 2014, such has been the level of Mercedes' dominance under new power unit regulations. Wolff acknowledges the predictability of which team is likely to win each race does not have a positive effect on the sport and also provides diminishing returns for his team's reputation, and suggests allowing the two drivers to fight even more as a potential solution.
"Our dominance is bad for Formula One," Wolff told The Mail on Sunday. "It is. It makes the racing boring. It becomes predictable how the result is going to be. The sport needs multiple winners. It needs the odd freak result. It needs the underdog to win. The moment you become a dominant force, you suffer and your brand suffers. You become the dark side of the force.
"It even happened to Red Bull. They joined the sport. They were the Jedis. They jumped in the pool when they finished third in Monaco with Coulthard. They had the Formula Unas, the girls around the paddock. They had the Red Bulletin. They were controversial. They had a superb brand.
"But after winning the world title four times in a row, they developed into an unsympathetic brand. Nobody wants the establishment.
"If you start to behave like the establishment, you are finished and people will have animosity against you. So our dominance is bad for Formula One and it's bad for us, but what can I do? The only thing you can do yourself is stay humble, keep both feet on the ground, acknowledge that these are special circumstances and it might be different in the future and try to enjoy the moment.
"But we are living in a world where people don't want anybody to do well. It seems that we are feeling happier with the misery of others. That's wrong. If you are happy with the misery of others, it is going to make you miserable, too. That comes back like a boomerang.
"This is still a competitive environment but I'd rather be inspired by somebody who does well. I would rather look up to him than envy him. Even my biggest enemy has a best friend.
"So I want the dominance to continue but if it were to continue like this, I need to think what to do so we do not become the enemy and how we can help the show. Maybe it's about unleashing the two of them [Hamilton and Rosberg] completely. Make them have their own strategy cars. That would be a solution."
Wolff has previously warned he would be willing to change the driver line-up if Hamilton and Rosberg's rivalry has a negative impact on the team.
2015 F1 season: F1i's drivers review 10-1