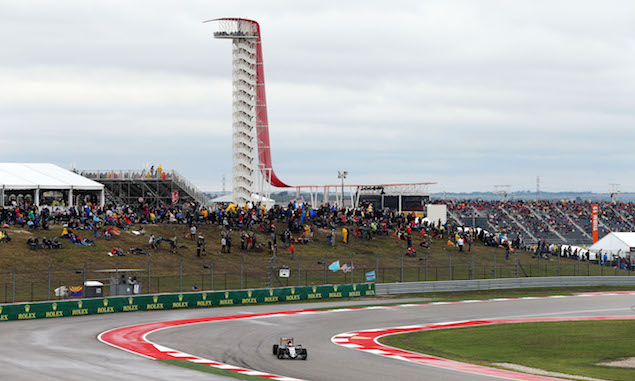 A commitment from the State of Texas to pay $25million per year in funding for the United States Grand Prix could help save the race.
Having first hosted a race in 2012, the round at the Circuit of the Americas (COTA) in Austin is currently marked as subject to agreement with the promoter as a result of financial concerns at the circuit. Originally, the State of Texas had been paying $25m towards the race hosting fee, but this year reduced that amount to $19.5m following a review of its impact on the local area.
The contribution comes from a fund which was set up to attract major events to Texas, but the reduction had left the grand prix in doubt due to circuit chairman Bobby Epstein admitting there is no contract stating the amount would remain at $25m for the full duration of its ten-year deal.
However, Forbes has now published a letter from former Texas Comptroller of Public Accounts, Susan Combs, which commits to the full amount being paid.
The letter reads: "In response to the requirements of the race promotion contract for the Formula 1 United States Grand Prix in Texas, I hereby certify the following:
"With the understanding that the first Formula 1 United States Grand Prix race will be held in Texas in 2012, full funding of the entire sanction for 2012 will be paid to Formula One World Championship Limited ('FOWC') no later than July 31st, 2011.
"In subsequent years, two through ten, of the race promotion contract, i.e. 2013 through 2021, we will be sending $25 million dollars to FOWC by the end of July 31st of each year preceding the actual race event.
"We look forward with great enthusiasm to this event and a successful mutually beneficial relationship for many years to come."
Forbes quotes current governor Greg Abbott as dismissing the letter as "merely an effort to indicate broad support". However, while Combs is no longer in office, with the exact figures given and the lack of any suggestion the commitment could change as a result of new government members, it could provide COTA with an opportunity to save the race.
2015 F1 season: F1i's drivers review 10-1