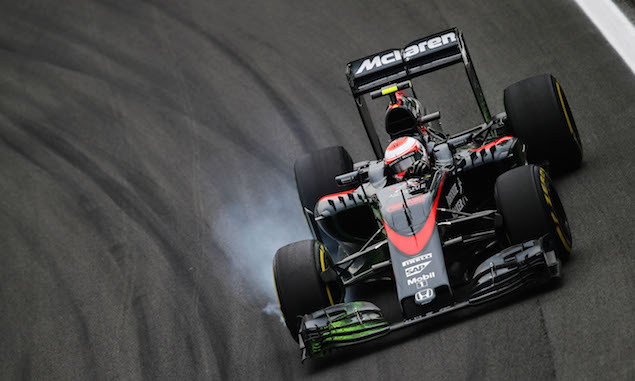 Jenson Button says he and Fernando Alonso had to drive differently in 2015 compared to the way they would usually race.
McLaren was uncompetitive in the majority of races this season, mainly due to the Honda power unit which proved unreliable throughout the year. With the engine down on power, Button says a different approach was needed in races which provided a test for both himself and Alonso.
"I feel like we had a good season," Button said. "Quite limited because there were a lot of racing and qualifying sessions that I haven't done, three times I haven't qualified this year. Never helps really but to us it hasn't made a massive difference when it comes to the race because you start at the back anyway.
"You do drive differently when you are in this position. Normally you are a driver that will think about a whole stint length and I am normally quicker at the end of a stint than I am at the beginning, but with the way we are now, we are just trying to hold onto the back of the grid, so you drive differently. You drive flat out every lap until you destroy the tyres.
"I wouldn't say that we are driving differently to normal. When we are more competitive we will drive in a different style than what you see this year. It is definitely a standout year for different driving style in a race situation."
When asked if he enjoys having to push so much, Button replied: "Not really – the whole time trying to hold on to the back of the field, it is not that much fun, so you try and stay in DRS the whole time."
2015 F1 season: F1i's drivers review 10-1