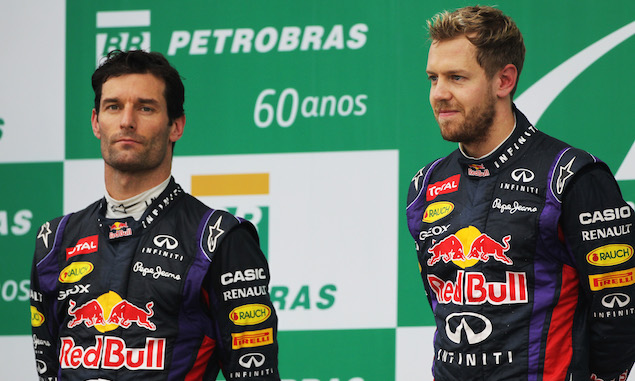 Mark Webber says he spoke to Sebastian Vettel about the content of his autobiography before publishing his book this year.
Webber brought out Aussie Grit earlier this year, documenting his rise from racing in Australia to challenging for the world championship with Red Bull. His tempestuous relationship with Vettel as his team-mate was featured in the book and when asked if he spoke to the four-time world champion before it came out, Webber told the Clare Balding Show on BT Sport: "I did, yeah.
"After I retired from F1 there was a clause in my contract that said I couldn't write a book for another year. So I had to wait. We obviously didn't put a huge amount of the guts of the book together but we had to move pretty quickly because obviously everyone forgets people pretty quick.
"Let's be honest, books cover a good bar bill, it's not going to change the world. So we thought we'd put a book out really just for motorsport fans and just to tell a bit of a story about how it all came together. But obviously there are some juicy chapters in there in terms of my racing specifically at the front with Sebastian.
"So I rang him up - he was racing at the Monaco Grand Prix and I wasn't staying too far away - and I said: 'Look, I want to come down and if you've got ten minutes I just want to run a few things past you.' And he said: 'Yeah, no worries'. So I went down I think it was like an hour and a half later.
"He said that he has changed and improved as well. He was young at the time. Look, we all do things at parts of our careers where we could have maybe handled or done differently throughout [due to] that inexperience or naivety or emotions. That happens in top line sport, business or whatever it is. So we went through some tough periods and Seb said: 'Look, I fully expect sections of the book where you are probably going to tee off on me'."
Playing the joker: Sebastian Vettel
Technical feature: All of the 2015 F1 steering wheels