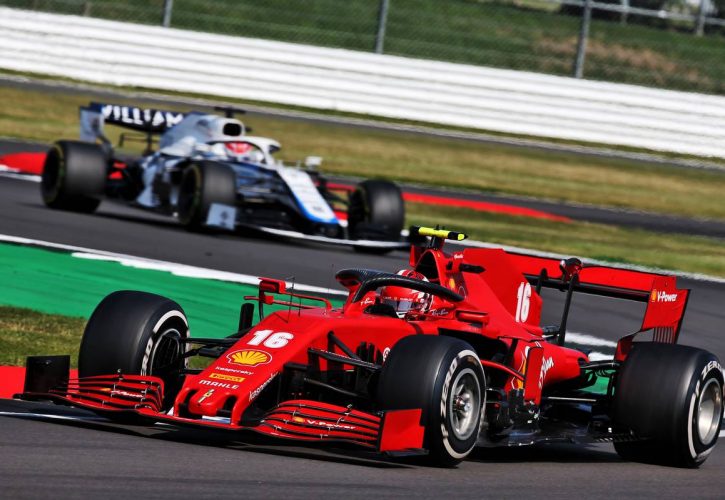 Charles Leclerc secured a fourth-place finish in Sunday's second round of racing at Silverstone, the Ferrari charger relying on a one-stop strategy to achieve a result that felt like a race win for the Monegasque.
Leclerc's game plan in the 70th Anniversary Grand Prix diverged from the overwhelming majority of the field, with his fellow competitors opting for the most part on a two or three-stop race.
Leclerc followed up his opening 18 laps on the medium compound by a long 34-lap sting on the hard tyre, a strategy that gradually pushed him up the order and into fourth, thanks also to his car's unexpected but solid pace.
"I am extremely happy today. It feels like a victory," he said.
"It's not great to say that once you finish fourth but the reality is we are not quick enough today, but today was very impressive.
"I don't know where we found our pace but we were very quick on the hard tyres, especially towards the end of the stint. Extremely happy with the job we did today."
A one-stop strategy was perceived as a risky proposition ahead of Sunday's race, especially when taking into account last week's tyre drama. But Leclerc and Ferrari made it work.
"Yesterday was a very difficult day but today was a very good day," said the 22-year-old.
"I think the strategy played an important part in our result today. I pushed quite a lot of the team to make this one-stop work.
"I think everyone was pretty scared after what happened last week with the tyres blowing and everything, but we made it work.
"I am also happy with the progress I have made with the tyre management."
Gallery: The beautiful wives and girlfriends of F1 drivers
Keep up to date with all the F1 news via Facebook and Twitter