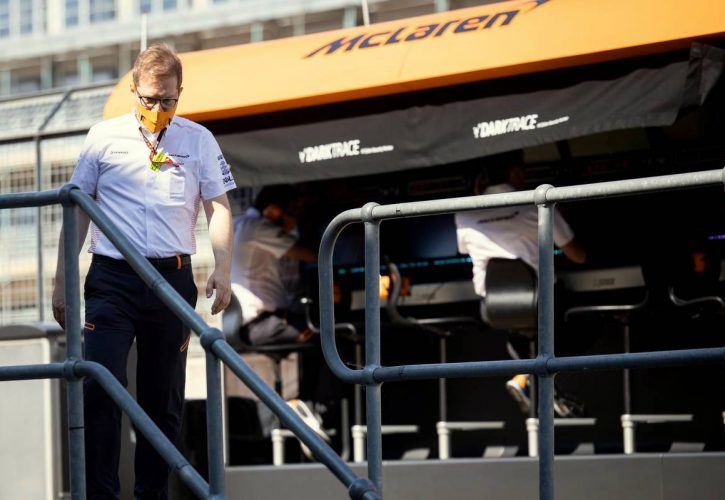 McLaren team boss Andreas Seidl says his outfit's relationship with future engine supplier Mercedes remains intact despite the pair's differing opinions over the controversial case involving Racing Point.
McLaren is among the four teams that have signaled their intention to appeal the FIA Stewards' decision to levy a €400,000 fine on Racing Point as well as dock the team 15 Constrictors' point for breaching the technical rules for copying on its 2020 car the design of Mercedes' 2019 brake ducts.
Racing Point is at loggerheads with its rivals, believing it has done nothing wrong while the latter insist it has not been punished severely enough for violating the regulations.
Mercedes team boss Toto Wolff is acting as a mediator to try and settle the group's differences and prevent Racing Point's case from heading to the FIA's International Court of Appeals.
While McLaren and Mercedes are on opposite sides, Seidl insists there is no "bad blood" between the future partners.
"[There is] absolutely no bad blood between us and Mercedes," Seidl said, quoted by Motorsport.com.
"We have a great relationship anyway with Toto, with Mercedes, with the guys from Brixworth preparing for next year.
"In the end, the case which is on at the minute, is with Racing Point and not Mercedes."
Last weekend at Silverstone, Racing Point team owner Lawrence Stroll made a rare public appearance to denounce the maneuvers of Ferrari, McLaren, Renault and Williams, the four teams appealing the FIA's verdict.
Pressed on what he thought of Stroll's angry rebuttal, Seidl would not comment on the Canadian's remarks as McLaren is a party to the current legal proceedings.
"I don't want to comment on any of these comments," Seidl said. "[We're] part of a legal process. I don't want to comment further on it.
"And at the same time, it's important to not waste too much energy on the entire case. We know what we have to do on the McLaren side to be more competitive, and that is my main focus, together with the team."
Last month, following Renault's protest of Racing Point's brake ducts, Seidl conceded that has always been widespread in F1. But the McLaren team boss wants a better and tighter definition of the process that allows for replication.
"There's obviously copying [which] is not just copying," the German said.
"There's copying which has always been around in Formula 1, and which is part of Formula 1.
"We have tried to analyse what competitors are doing by pictures that are publicly available, pictures you can take in the pit lane or on-track.
"I think no-one has any problem with copying parts or cars from these pictures.
"What is more important is to simply clarify and maybe also change the regulations on what can be done in terms of copying beyond this copying, where you only use publicly-available information."
Gallery: The beautiful wives and girlfriends of F1 drivers
Keep up to date with all the F1 news via Facebook and Twitter