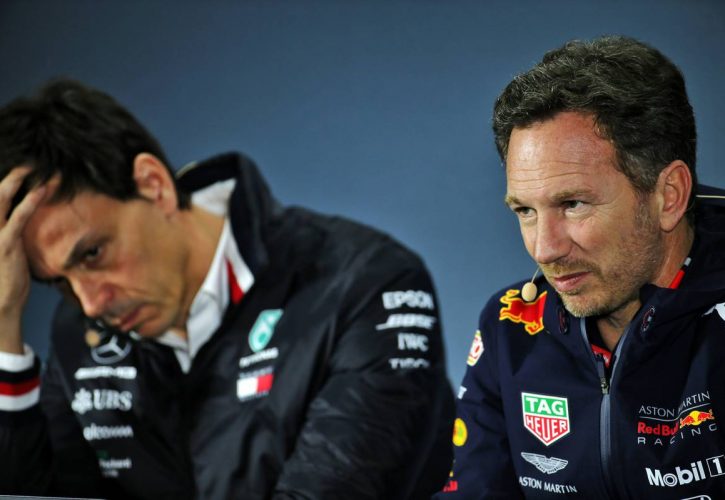 Red Bull's Christian Horner says Mercedes could be held legally accountable for its role in Racing Point's brake duct saga.
Racing Point was deemed in breach of F1's technical rules by the FIA's stewards for using on its 2020 car a listed part - its brake ducts - that was designed and supplied by Mercedes.
The verdict prompted Ferrari, Renault, McLaren and Williams to signal their intention to appeal the €400,000 fine and 15-championship point deduction levied upon Racing Point, as they considered the verdict too lenient while it also allowed the team to continue using the controversial brake ducts this season.
Ultimately, only Ferrari and Renault have followed on with the appeal, a process that Red Bull is not involved in, although Horner will be attentive to the procedure's outcome.
Racing Point produced its 2020 brake ducts based on CAD data supplied by Mercedes which also delivered a spare set of the components to the Silverstone-based outfit in early January.
"It's an interesting one," said Horner. "I think the biggest thing for us is that we just want absolute clarity as to what is and what isn't permissible moving forwards.
"Obviously Red Bull are in the unique position that they own 100% of two Grand Prix teams. So we've always complied stringently with the regulations since the constructor rules within the last Concorde were made very, very clear.
"So for us it's that there is a bigger picture to this, it's not just about brake ducts, it's about what is philosophically allowed, and what isn't.
"Regarding Mercedes, I'm sure those questions will get asked, because if the team in question are guilty of receiving, surely the team that has provided has also been in breach of those regulations? That's something for the FIA."
Last weekend at Silverstone, addressing possible litigation involving Mercedes, team boss Toto Wolff emphatically dismissed any wrongdoing on the part of the Brackley squad.
"We feel 100 percent comfortable with our position," said the Austrian.
"We've read the rules over and over again. The verdict that came out is extremely complicated. It comes up with an interpretation that is new. New to all of us.
"We have provided certain data in 2019 which was totally within the rules. The 6th of January [the date when Racing received spare brake ducts from Mercedes] has no material effect on any of the action because the whole thing was delivered much earlier and all the CAD drawings and designers were delivered much earlier.
"And Racing Point and ourselves are still of the opinion that is within the regulations."
Gallery: The beautiful wives and girlfriends of F1 drivers
Keep up to date with all the F1 news via Facebook and Twitter