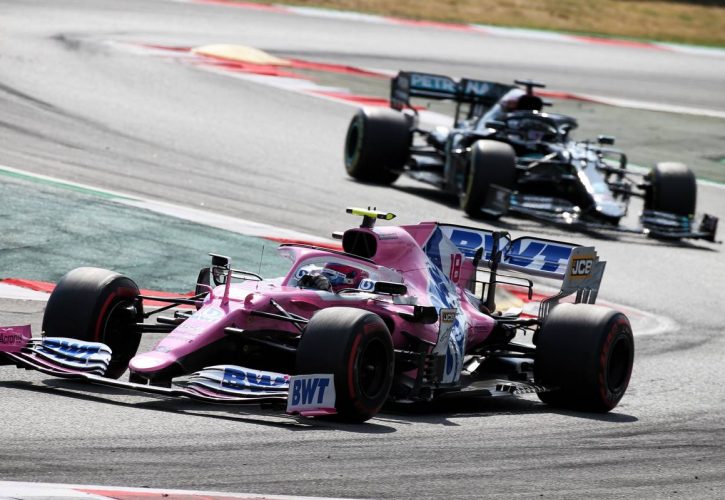 Racing Point's Lance Stroll won the  midfield battle in Spain on Sunday, thanks to a flawless drive to P4 that started with a blistering start and a bold overtake at Barcelona's Turn 1.
Stroll blasted off the line from fifth and outran teammate Sergio Perez into the first corner where the Canadian promptly moved to the inside and dispatched Mercedes' Valtteri Bottas to position himself third into Turn 2, a position he would hold during the opening laps of the race.
"That really made my race!" enthused Stroll as he revisited the stunning overtake after the race.
"I had a great launch off the line and managed to get Sergio and the Mercedes - Bottas. I saw a gap on the inside, went for it and that really set me up for a great race."
Stroll admitted he hadn't planned the move considering that braking on the inside at Turn 1, on a dirty portion of the track, was a risky proposition.
"I was kind of pulling up alongside him and from there I had to just keep it pinned," he said.
"I did it for the TV time, I was like 'I'm not sitting here in fourth, let's get past the Mercedes for a few laps, it'll feel good'.
"It's a bit of a lottery always braking on the inside there, no one goes there. I was just tapping the brake pedal, feeding it in but I had enough grip to stick it.
"Before the start you always kind of envision in your mind where you're going to end up, and I assumed if I'd get a good launch, Max [Verstappen] would get a good launch, I'd be braking on the outside to Turn 1.
"And then I found myself on the inside of Max and the Mercedes. I didn't plan on that but I'm glad I made it stick and from there it was a great race. Fourth is the maximum we could have done today."
The remainder of Stroll's after was drama free, save for a close battle with Perez that likely raised the tension on the Racing Point pitwall and a sudden change of strategy that led the Canadian to undertake two stops instead of one, like Perez.
"We were both managing to get to the end on the one stop, that was the plan. And from there I'm not sure what happened but I got called in for a two stop."
Overall, Stroll lost a position, with Perez claiming fourth on the road, but the 21-year-old reclaimed was rightfully after the Mexican was hit was five-second penalty for ignoring blue flags.
"I really didn't push that second stint because I was managing so much," he added.
"From there I was on the back foot just trying to those positions back, managed to get Sebastian when his tyres were dying, and Sergio had the five-second penalty.
"I got within a couples second of him and took fourth!"
Gallery: The beautiful wives and girlfriends of F1 drivers
Keep up to date with all the F1 news via Facebook and Twitter