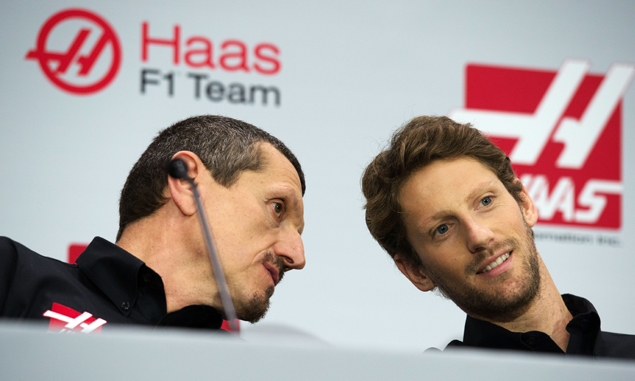 Haas team principal Guenther Steiner says poaching Romain Grosjean from Lotus served to show just how committed the US squad is to compete in Formula One.
Despite Haas' close technical partnership with Ferrari, the recent demise of HRT and Caterham, as well as Manor's exit from administration at the 11th hour, has cast doubt on the viability of future F1 programmes.
Although Lotus was already in advanced talks with Renault about a future takeover, Grosjean still elected to join the new American outfit and was officially announced as its first driver a couple of days after the Japanese Grand Prix.
Steiner explains how recruiting the Frenchman has created a positive bandwagon effect around the Haas project.
"It is more difficult to attract people and be credible after a few teams have gone out of business in the last year," the former Jaguar and Red Bull man told Sky Sports.
"It is difficult to make people believe that we are here for the long-term and that we are actually coming because we cannot show anything that we are doing.
"So that was my biggest challenge to convince people, but the signing of Romain helped a lot to give it credibility as people said 'if Romain Grosjean, one of the best drivers in F1, joins the team he should know what he is doing as he has been in the business for a long time, so he must have done his due diligence'.
"A lot of good people applied for a job with us after that."
Anxious to keep expectations in checks, Steiner added: "Established people, but no big names: there is no Adrian Newey for example. I think there are less of the big names around."
Grosjean will team up with former Sauber driver and Ferrari reserve Esteban Gutierrez for Haas' maiden F1 season.
Key dates for the 2016 F1 season
Technical feature: All of the 2015 F1 steering wheels
Use the red tabs on either side of the screen to scroll through more Formula One news and features