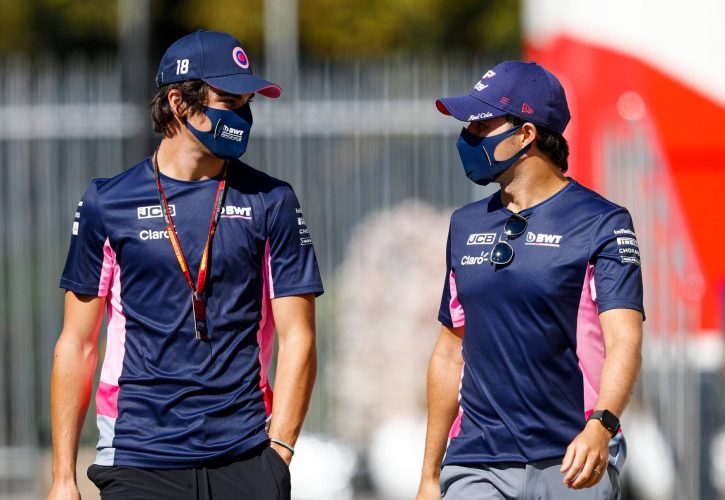 Racing Point team boss Otmar Szafnauer says Sergio Perez was well aware of the possibility that he could be replaced by Sebastian Vettel for 2021.
Perez said on Thursday that he only learned on Wednesday of his team's decision to hire Vettel, having been confident up to then that he would be racing with Aston Martin Racing in 2021.
But Szafnauer said Perez's comments were "a bit of a misnomer", insisting that while the definitive decision was indeed taken on Wednesday, the Mexican was kept up to speed on developments through his manager Julian Jakobi.
"He did have an inkling and he did know," Szafnauer told Sky at Mugello. "We kept his manager, Julian informed of the process all the way through.
"He was kept aware of what was going on. What he didn't know, because the decision wasn't made, was what the definitive action was going to be."
Szafnauer said that talks with Vettel had been ongoing for a long time, but insisted the final call was not an easy one to make.
"We've been talking to him for quite some time and the decision was made two days ago, the final decision. It wasn't easy," said the Racing Point boss.
"Sergio's served us well. He's a great racer, he's a quick driver. He's a safe pair of hands on a Sunday especially, he doesn't make many mistakes, he brings the points in. So it wasn't that easy.
"I think it's a compliment to Sergio for us to deliberate so long whether to take a four-time world champion with all the experience Sebastian brings or stay with stay with Sergio.
"Ultimately with Aston Martin coming in I think it's the right decision to get the experience that Sebastian brings with the experience of a top team.
"That's where Aston Martin aspires to be. So I think we did the right thing."
Perez - and Szafnauer - repeatedly said over the summer that there was a contract binding the Mexican to the team for 2021.
While the American was reluctant to reveal any details about the contract, Szafnauier hinted at a special clause that allowed the team to terminate Perez's deal ahead of its term.
"Contract stuff is confidential, so we don't like to talk about that," he said. "But you can imagine there are options in there that we either could exercise or couldn't."
Gallery: The beautiful wives and girlfriends of F1 drivers
Keep up to date with all the F1 news via Facebook and Twitter