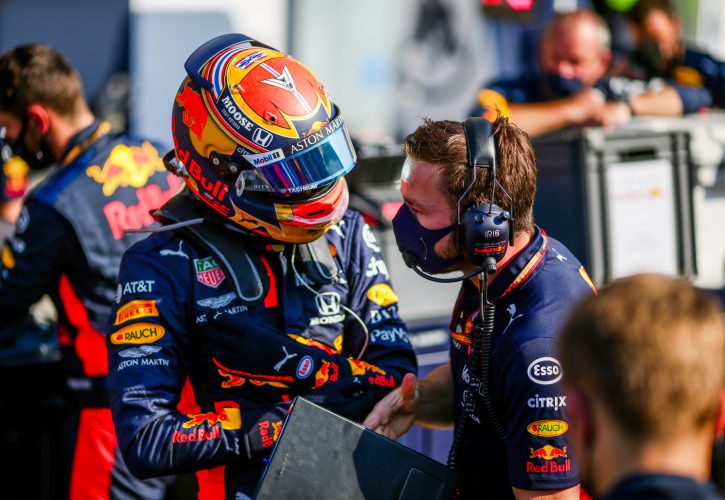 Red Bull team boss Christian Horner says another mid-season swap between Alex Albon and Pierre Gasly "wouldn't make sense".
Albon and Gasly traded places last season, with the former promoted to the senior bull squad while the Frenchman was downgraded back to Toro Rosso/AlphaTauri.
However, Albon's performance relative to teammate Max Verstappen has disappointed so far this year.
The shortfall, coupled with Gasly's recent triumph, has sparked speculation that another swap of drivers could be in the works at Red Bull.
Both Horner and Red Bull motorsport boss Helmut Marko have both voiced their support for Albon, insisting the 24-year-old's progress in his second season of F1 is still trending higher.
At Mugello, Horner praised Gasly for his Monza feat, but reiterated his backing for Albon, insisting that another mid-season swap between the two drivers "wouldn't make sense".
"Pierre has done a fantastic job," said Horner. "Since taking a step back into what was Toro Rosso, now AlphaTauri, he's found his confidence, he's driving incredibly well.
"AlphaTauri are doing a great job with him. It's really good to see that's working out for him.
"I think that as far as Red Bull Racing's seats are confirmed we're focussed on Alex Albon, we want to try to give him the best opportunity to retain that seat.
"We've got some issues that we're working on with the car. I think that it wouldn't make sense to switch the drivers back."
Albon denied that his rival's shock win at Monza had put him under additional pressure to improve his performances at Red Bull.
"Joining a top team of course, you yourself you want to do well, because it is an opportunity to win races or get podiums, but in terms of added pressure, the pressure really comes from within," Albon explained.
"It's yourself wanting to do well rather than anything else. That doesn't really change when you change teams. It's not really any different, to be honest.
"On my side, I'm looking at my own recent races and things have been going on the up.
"So I'm happy with the way it's going. We've got another weekend to get it together and focus on the weekend. I do think especially Monza didn't really reflect what was going on.
"But good times will come, and I'm sure when I have the opportunities, I'll be showing what I can do."
Gallery: The beautiful wives and girlfriends of F1 drivers
Keep up to date with all the F1 news via Facebook and Twitter