Two-time F1 world champion Mika Häkkinen says the chaos that unfolded at Mugello last weekend demonstrated that drivers still have much to learn about racing at new venues.
The Tuscan Grand Prix was a three-part affair marked by several crashes, two red flags and three standing starts.
Häkkinen says Mugello's layout provided several challenges to drivers.
"Looking at the accidents at the start of the Tuscan Grand Prix, I think this showed how drivers still have much to learn when visiting a new circuit," Häkkinen wrote in his post-race Unibet column.
"Mugello created a unique challenge given that it is very quick but also quite narrow.
"With only one natural overtaking place, drivers were trying to make sure they positioned themselves as well as possible at the start with three or four cars fighting for the same piece of track."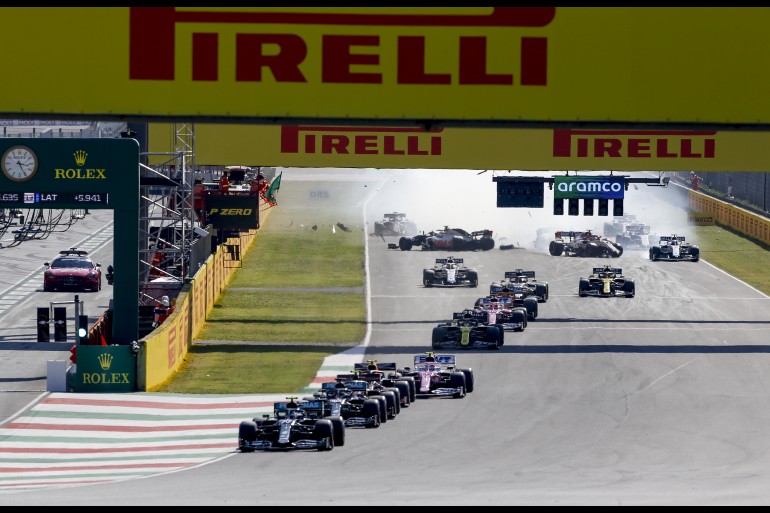 The former McLaren driver specifically addressed the crash that took place during the race's rolling start which eliminated Carlos Sainz, Kevin Magnussen, Antonio Giovinazzi and Nicholas Latifi.
"The first accident was a normal racing incident, with too many cars closely packed going into left-right at Turns 2 and 3," said the Finn.
"The second accident, which caused the race to be red-flagged, was much more dangerous as we had cars tightly grouped as drivers were trying to guess when Valtteri Bottas would accelerate after the Safety Car restart.
"This resulted in cars going at different speeds and drivers unsighted. The on-board television images showed just how difficult it was for drivers to avoid each other.
"It was the kind of multi-car accident we are used to seeing in lower formula, not in Formula 1, but once again the safety improvements did their job."
Häkkinen was also troubled by the crash that befell Racing Point's Lance Stroll.
"Lance Stroll's accident was worrying because the car appeared to suffer failure which may have been as the result of Mugello's kerb," he added.
"Suffering a failure like that is not a good experience because the driver becomes a passenger and there is nothing you can do except prepare for the impact."
Gallery: The beautiful wives and girlfriends of F1 drivers
Keep up to date with all the F1 news via Facebook and Twitter