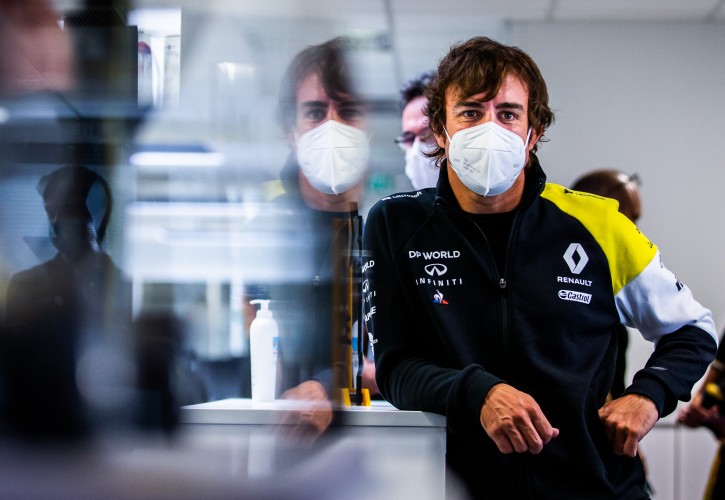 Fernando Alonso has kickstarted his preparations for his return to F1 with Renault in 2021, the Spaniard comparing his visit to Enstone this week to a "first day at school".
Alonso's homecoming to the team with which he won 17 Grands Prix and two world titles was a busy two days of work, with the 39-year-old completing a full day in Renault's simulator, a seat fit and engineering meetings before jetting off to Paris to drop in on the French manufacturer's engine technicians at Viry-Châtillon.
The surroundings were familiar to Alonso despite the changes that have taken place over the years.
"Being back at Enstone was a very good experience, they were very emotional days," commented Alonso.
"A lot of things have changed; the simulator is new, the wind tunnel has been updated, but a few things are the same: there are the same offices, the gym that I used to visit a lot…
"It was a like a first day at school, with lots of things to learn and get through, but it was very productive.
"I've followed a programme in the simulator, getting used to the car a little, testing the facilities – last time I was here the simulator didn't exist! Then I had a seat fit and meetings with key people to understand the programme for next year. It was really just getting up to speed."
Overall, the 32-time Grand Prix winner was left with a favourable impression that added to the positive feelings generated by Renault's recent good results.
"I think the team is in good shape for the future," he added. "The last few races were encouraging for everyone, for myself too.
"To see Renault back in a competitive manner is a good thing for the sport and I've been delighted to see the improvements.
"We've still got a long way to go and the midfield is very tight but I think the guys have done an amazing job trackside.
"The last couple of races were very exciting to watch and I am looking forward to being back in the mix.
"I'll now follow what the team needs from my side – some sim days, helping some weekends and being available for the team for anything they need."
Gallery: The beautiful wives and girlfriends of F1 drivers
Keep up to date with all the F1 news via Facebook and Twitter