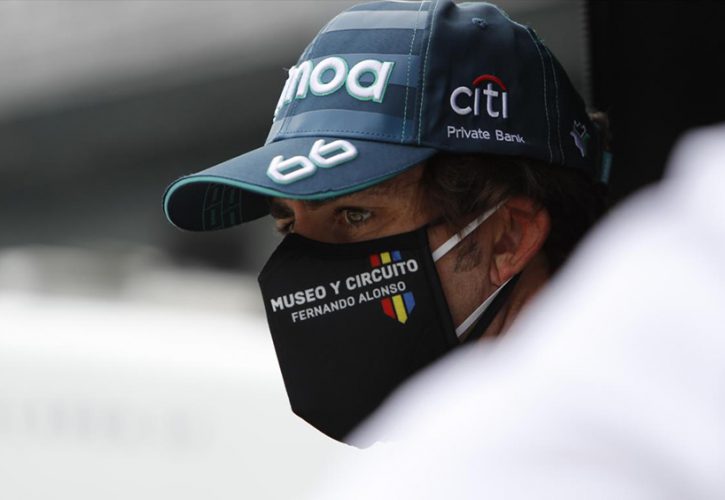 Renault is seeking permission from the FIA to run Fernando Alonso in this year's post-season young driver test scheduled in Abu Dhabi in December.
Alonso will return to Formula 1 next season with the French outfit - that will be rebranded Alpine from 2021 - after a two-year hiatus, undertaking a campaign during which the Spaniard will turn 40, potentially becoming the sport's senior citizen if Kimi Raikkonen retires.
The Abu Dhabi test is theoretically intended for drivers who have not competed in more than two F1 world championship events, but special approval from the FIA could allow Alonso to take part.
Renault boss Cyril Abiteboul has ruled out running Alonso in a Friday free practice session this season.
"Initially it [the approach] was, I drive when I drive," Abiteboul told Motorsport.com. "But now I get the feeling that he is really keen to have a go, even in the current car.
"So we are looking into the opportunity to do that, but being very sensible.
"I mean, I'm not talking about any FP1 because frankly he doesn't need that, he doesn't need the exposure of FP1. And we need clearly the set-up opportunity.
"But we'd like to see [him in the car] because I can feel that he has hunger for it.
"We need to see if it can happen based on the testing criteria. So we are talking with the FIA about that."
Renault's performance has been trending higher over the summer, with Daniel Ricciardo finishing fourth in last weekend's Tuscan Grand Prix, and Abitebeoul says the good results have boosted even more Alonso's enthusiasm.
"At the start, it was much more about the future," said the Frenchman. "It was let's go very hard on 2022 and forget about 2021 and write off 2021.
"But as he sees that we are starting to have interesting battles on track, Fernando, he wants to feed the blood, in a positive way. He wants to see that there is something that he can grasp."
Gallery: The beautiful wives and girlfriends of F1 drivers
Keep up to date with all the F1 news via Facebook and Twitter