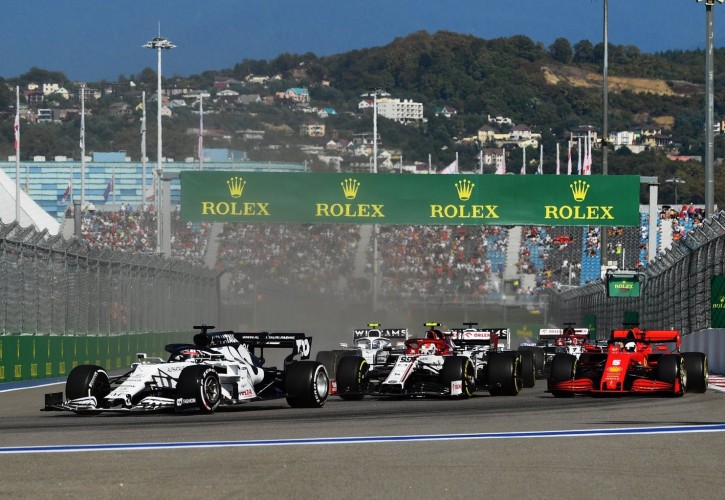 Daniil Kvyat was delighted to be racing in front of fans in the grandstands at his home event this weekend, and that happy to reward them with a top ten finish with AlphaTauri.
Kvyat hadn't made it through to the final round of qualifying on Saturday, but started from 11th on the grid with a free choice of tyres compound for his first stint.
Opting for hard tyres enabled him to stay out until lap 30, by which time he had climbed up to third place behind Valtteri Bottas and Max Verstappen, and ahead of Lewis Hamilton who was still recovering from a brace of penalties.
Kvyat said he had been impressed by the performance of the AlphaTauri at Sochi and was pleased to have had such a strong day.
"I'm really happy with today, my home Grand Prix couldn't have gone much better," he said. "It was a tough race, I always had to push to make the strategy work, but this is the kind of racing I like.
"When I saw Hamilton behind me and I was able to keep him behind for a couple of laps, I thought the pace in the race is amazing.
"I was confident this morning that we could have had a good race as I'm normally quite strong when it comes to Sundays."
After pitting, Kvyat dropped back to eighth place and spent the rest of the afternoon trying to find a way past Renault's Esteban Ocon, but ultimately without success.
"It's just a shame I wasn't able to force Ocon into a mistake, otherwise P7 was definitely on the table," he said. "we were quicker but it's hard to overtake with these modern F1 cars.
"I'm happy with my driving and we got some good points for the team. The car is there, the pace is there, so we have to keep pushing for the rest of the season. Hopefully we can gain a position in the Championship."
His team mate Pierre Gasly started from ninth place and gained two positions from the first lap incidents on soft tyres, but an early pit stop on lap 18 set him back.
"It wasn't an easy race for us. I had a good start and was running in P7, but then we lost quite a lot of time in the middle part of the race when I was fighting with Alex Albon and Kimi Raikkonen.
With tyre wear a problem in the later laps, Gasly used a brief Virtual Safety Car period to pit again. He lost positions to Lando Norris and Alex Albon, but the fresher tyres meant he was able to gain them back again by the chequered flag to finish in P9, one spot behind Kvyat.
"If the Virtual Safety Car period had been a bit longer, it would have certainly helped with a free stop, but it was shorter than expected so I paid for it a bit," he admitted.
"However, I tried to recover as best as I could and was able to overtake a few cars. It's a bit disappointing as the car felt great, we had good pace and I think we could have done more today."
Gallery: The beautiful wives and girlfriends of F1 drivers
Keep up to date with all the F1 news via Facebook and Twitter