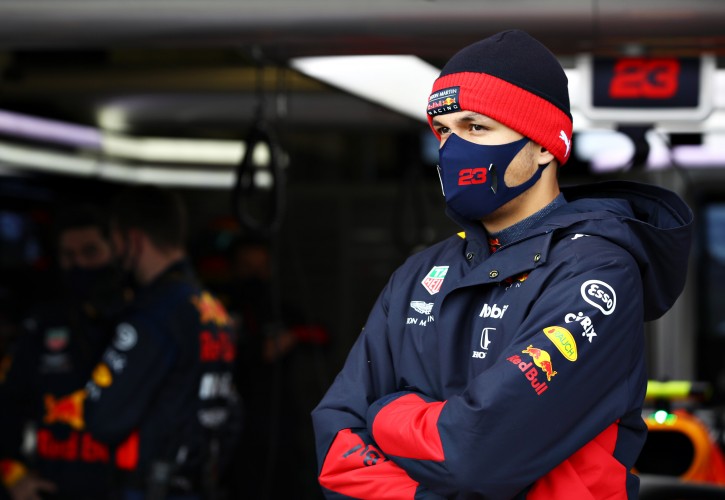 Sky F1's Martin Brundle called Alex Albon's messy performance in the Eifel GP 'a shocker', insisting the Red Bull driver's confidence has been broken by teammate Max Verstappen.
Albon retired at the Nürburgring after 23 laps due to a pierced radiator, but the British-Thai racer's performance up to then had been a scrappy affair marked by a lock-up and early pitstop, and a clumsy run-in with Alpha-Tauri's Daniil Kvyat that earned him a 5-second time penalty.
During his push through the field after his early pitstop, Albon stumbled upon an unyielding Pierre Gasly whose resistance incited the Red Bull driver to complain about his AlphaTauri rival racing him "so hard", a griping that surprised Verstappen.
"He should expect this," said the Dutchman after Sunday's race. "Alex took his place in the team so it makes sense that Pierre wants to complicate his life."
For Brundle, Albon's Mugello podium is now but a distant memory.
"Max's brilliance has broken the confidence of another team-mate in Alex Albon who had a shocker really, no other word for it," Brundle said in his post-race Sky F1 column.
"Locked brakes, flat-spotted tyres, pulling back onto the racing line despite not being fully past Daniil Kvyat's AlphaTauri, penalty points on his licence and a time penalty in the race.
"Complaining on the radio that the AlphaTauris were racing him so hard. Then an apparent water leak retiring his car.
"It's a long way back from there and his credit in the bank from the Mugello podium has been heavily eroded."
In Germany, Red Bull team boss Christian Horner reiterated his support for his driver despite Albon's recent shortfall, but Brundle believes the 24-year-old is on need of a reset.
"A couple of times against Senna in F3 and Schumacher in F1 I found myself in a hole," said Brundle.
"And with nothing to lose and assuming it was all over, I simply rebounded from rock bottom and let the natural talents and experience flow in a carefree way and started beating them.
"That's what Alex needs to do if he can."
Gallery: The beautiful wives and girlfriends of F1 drivers
Keep up to date with all the F1 news via Facebook and Twitter