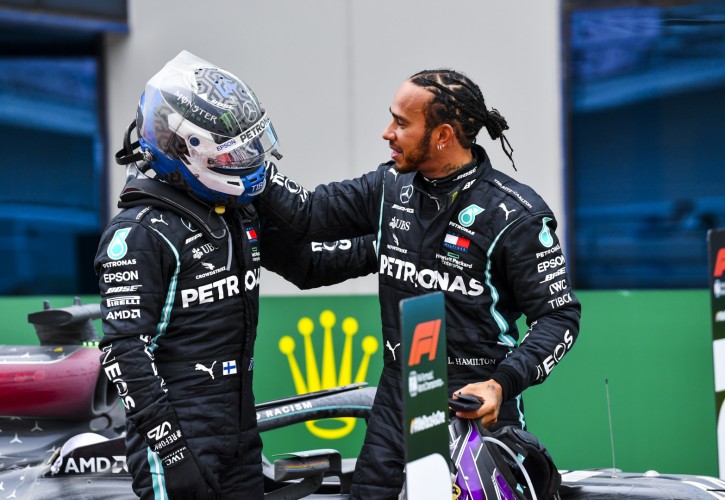 Mercedes F1 boss Toto Wolff says the "alpha male" combination of Lewis Hamilton and Valtteri Bottas is a dynamic that works really well for the Black Arrows squad.
Despite Wolff's characterization of Mercedes' line-up, there's a general perception among F1's fans that Bottas is simply no match for his seven-time world champion teammate who, in Turkey, wrestled a win in difficult circumstances while the Finn spun six times.
Asked after the eventful race at Istanbul Park if he'd rather have a driver who could push Hamilton harder, as Nico Rosberg did for several seasons, Wolff said the team's current pairing of drivers provides it with the right "dynamic".
"I think if you have a dynamic between two drivers that is where the talking happens on track, I think you can have two alpha males [in the team]," Wolff said. "And Valtteri has shown some really good performances this year but then dropped away towards the end.
"I like Valtteri and Lewis. The combination works well.
"When Lewis has a bad day, then Valtteri pulls it off, then the other way around: Valtteri had a really bad day today and then Lewis wins the race. I think as a combination, it really works well."
Assessing Bottas' troubled race in Turkey, the Austrian refrained from passing judgement based on the Finn's many spins, insisting the latter had encountered on track "the perfect storm".
"I think he suffered from what many other drivers suffered out there, that simply, the tyres were not in the right temperature window," Wolff explained.
"And once you're in that kind of spiral, it's very difficult to set yourself back in a good position and I think everything came together for him – the perfect storm."
Gallery: The beautiful wives and girlfriends of F1 drivers
Keep up to date with all the F1 news via Facebook and Twitter